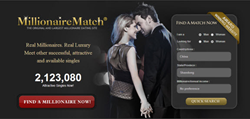 Los Angeles California (PRWEB) May 15, 2014
A recent study conducted by dating site MillionaireMatch.com revealed that millionaires' choices were a tad too different. According to statistics, these individuals liked to date models the most as compared to people belonging to any other profession. To be precise, among those who have a certain idea about what kind of partner they need to find, 53.37% searched for models. The second favorite turned out to be doctors with 30.23% of the millionaires searching for partners from this domain.
Athletics bagged the third spot in favoritism among millionaires. 10.45% of the users searched and preferred dating an athlete rather than an individual from any other walk of life. Actor/ actress or people belonging to the glam world saw a mere 5.94% of millionaires looking to make them as their dating partner.
Several conclusions can be drawn out from this study. As per trends, millionaires like dating attractive partners. Nonetheless, this cannot be made the rule of the thumb in this regard.
Gone are the days when fitness was of no importance. Millionaires who are health conscious prefer dating individuals who share the same belief and respect exercising as well as sports. The numbers reciprocate the same story as over 10 percent of the millionaires considered athletes as their ideal partners.
Lastly, people belonging to the film industry received least interest from the creamy layer of the society. Less than 6 percent of the millionaires on popular dating website MillionaireMatch.com actually showed interest in actors and actresses. Call it the work ethics of this field or the commitment that most actors/actresses show, millionaires do not find individuals from this industry very appealing.
The result can help people know more information about what kind of partner millionaires want to find on the site. But not all people care about the occupation of their match. According to a former survey by MillionaireMatch.com, 97.09 percent of people have no preference about their match's occupation on MillionaireMatch.com.