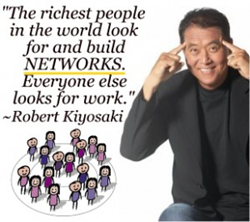 According to Reynolds, "You must be willing to grow your network organically, and smartly leverage the connections you make along the way."
Los Angeles, CA (PRWEB) May 22, 2014
Neil Haley, The Total Tutor host of the Simply G Radio Show recently interviewed Vi Millionaire GJ Reynolds to uncover the real meaning of network marketing, discuss common misconceptions, and dig into strategies one is able to use to become a successful network marketer.
GJ Reynolds is an original founding member in the company ViSalus, a 5 Star Ambassador, Vi Millionaire, and CEO of Simply G Media. He is also the author of "The Playful and Powerful Warrior Within You". Reynolds has worked out for 900 days straight and counting. He also has successfully completed the year long Dale Brown Challenge in 2012.
On the recently aired radio show, Reynolds shared what the real meaning of network marketing is: tapping into a network and leveraging word-of-mouth to reach a warm market.
Network marketing – or commonly called multi-level marketing – has developed a somewhat negative reputation, according to Reynolds. "All business are pyramids; they happen in all industries," he said. "If you are making money it is not a 'pyramid scheme.'" Reynolds also discussed the fact that network marketing provides a much simpler platform for starting one's own business, making it fairly easy for anyone with entrepreneurial drive to find success.
The Vi Millionaire went on to share three practical ways to be successful in network marketing:
1. To find success, stay the course.
"People think it's about getting rich quick. I've been an entrepreneur who has had major success, but at one point I was also depressed and suicidal. Staying the course is key; you must be very clear in your mission and vision," said Reynolds.
2. Create your own network.
According to Reynolds, "You must be willing to grow your network organically, and smartly leverage the connections you make along the way."
3. Surround yourself with the right people.
"You need to build each other up," said Reynolds. "Being around people who share similar goals and great work ethic helps enforce your confidence as you strive toward success."
More information on GJ Reynolds and the Simply G Media Network is available at http://www.simplyg.com