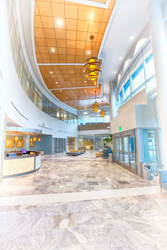 We could not physically bring water elements into the interior design of the building, but that did not stop us from incorporating components that have the relaxing and calming effects of water
Jackson, Tenn. (PRWEB) May 29, 2014
The Alice and Carl Kirkland Cancer Center has received a "gold award" from the Georgia chapter of the American Society of Interior Designers (ASID). LeVino Jones Medical Interiors Inc. was the interior designer for the Kirkland Cancer Center and submitted the center for a Healthcare Interior Design Award.
This award, the highest honor given by ASID Georgia, was presented during an awards banquet this month in Atlanta, Ga.
The beautiful new 82,000-square-foot, state-of-the art Kirkland Cancer Center opened last December and features a spa-like atmosphere with a soothing interior design. The center utilizes lighting, textured walls and colors reflective of water to enhance the spa experience.
"We could not physically bring water elements into the interior design of the building, but that did not stop us from incorporating components that have the relaxing and calming effects of water, such as a wave element that is prevalent throughout the interior design of the building," said Gina Myracle, executive director of the Kirkland Cancer Center.
The center is located at 720 West Forest Ave., on the campus of Jackson-Madison County General Hospital. It includes physician offices, three linear accelerators for radiation therapy, a spacious well-equipped chemotherapy administration area, a chapel, a resource library, boutique services, oncology pharmacy services, lab services and an outdoor healing garden.
The journey to this exciting new level of care began in January 2010 with a generous gift from Carl and Alice Kirkland. After two years of planning and design, the center broke ground in August 2012. The building quickly materialized into what many are calling a center unlike any they have seen in the state.
About West Tennessee Healthcare
The Kirkland Cancer Center is part of West Tennessee Healthcare, which has been named in Modern Healthcare magazine as one of the top 10 largest public, not-for-profit healthcare systems in the U.S. The system employs more than 5,000 people. With locations throughout 18 counties, West Tennessee Healthcare is a family of healthcare services that provides a full range of care including:

Inpatient hospitals
Outpatient surgical facility
Home healthcare agency
Mental and behavioral health
Medical laboratory services
Medical products
Primary care and specialty clinics
Outpatient infusion services
Inpatient and outpatient rehabilitation
Freestanding outpatient imaging facility
Pediatrics and early child development intervention services
Comprehensive cardiovascular program
Neuroscience program
Freestanding cancer treatment center
Hospice