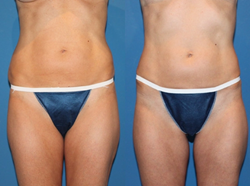 Cosmetic surgeons have been safely performing thigh fat reduction procedures for years.
San Diego, CA (PRWEB) May 30, 2014
A recent news report reveals that thigh gap surgery is the latest cosmetic trend that plastic surgeons are seeing around the country. This recent increase in demand for thigh gap surgery is thought to be inspired by high-profile celebrities such as Beyoncé and is fueled by a desire to get rid of stubborn inner thigh fat.
"Excess fat on the thighs is very difficult to get rid of with diet and exercise alone. Many women become frustrated when they lead an active lifestyle but don't see results in the inner thigh area," explained board-certified plastic surgeon Dr. Paul Chasan.
Women struggling with inner thigh fat can not only become embarrassed by their appearance, but also feel extreme discomfort when their thighs rub together. Extra fatty deposits in the thighs can also make it difficult to fit into pants and jeans. Dr. Chasan reassures patients that there are safe and effective treatments to reduce fat in the thighs.
"Women are more likely to store fat in the thighs than men, which causes the thighs to be a major area of concern. Thankfully there are several advanced procedures available to women who desire a slimmer and more youthful appearance in the thighs," said Dr. Chasan.
Using minimally invasive liposuction techniques, Dr. Chasan can remove unwanted fat deposits from the thighs and create more of a gap appearance. At Ranch and Coast Plastic Surgery in San Diego, Dr. Chasan also utilizes innovative techniques such as SAFE Lipo which creates a smoother result while achieving more aggressive fat removal with less scarring. Patients with excess skin in addition to excess fat can undergo a thigh lift which tightens sagging skin and diminishes cellulite in the thigh area.
"Cosmetic surgeons have been safely performing thigh fat reduction procedures for years. It is best to consult with a board-certified plastic surgeon to determine which treatment will produce the most ideal results," said Dr. Chasan.
Dr. Paul Chasan is a board-certified and nationally-recognized plastic surgeon who specializes in performing the most advanced cosmetic procedures for the face, body, and breast. At Ranch and Coast Plastic Surgery in Del Mar, Dr. Chasan is renowned for his exceptional work in facial rejuvenation, breast augmentation, liposuction, and tummy tuck surgery. Regarded as an expert his field due to his extensive education and experience, Dr. Chasan has authored numerous publications and is often called upon by the media to discuss the latest techniques and trends in modern cosmetic surgery.
For more information about Dr. Chasan and his state-of-the-art plastic surgery center, visit http://www.drchasan.com.