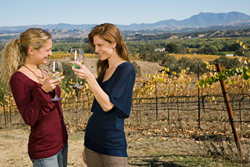 Temecula Valley Southern California Wine Country celebrates golden, sunny Autumnfest days and star-filled nights from Labor Day weekend through Thanksgiving. - Kimberly Adams, Temecula Valley president and CEO
Temecula, CA (PRWEB) June 12, 2014
"Temecula Valley Southern California Wine Country celebrates golden, sunny Autumnfest days and star-filled nights from Labor Day weekend through Thanksgiving with hot air balloon flights, live music, Farmers Markets, California Wine Month, Temecula Valley International Film Festival, farm activities, olive tours, grape stomps, quilt show, Harvest Celebration Barrel Tasting, and Thanksgiving week," announced Kimberly Adams, Temecula Valley Convention & Visitors Bureau president and CEO. "Wrap midweek getaways around special events and linger through less-busy weekdays to enjoy outdoor adventures, seasonal restaurant menus, artisan foods, and wineries' new releases. Temecula Valley resorts, hotels, and motels offer special Sunday-through-Thursday, better-than-weekend nightly room rates." Casual, picturesque Temecula Valley includes Southern California Wine Country, Downtown Old Town Temecula, and Pechanga Resort & Casino; and is located 60 minutes from San Diego, Orange County, and Palm Springs; 90 minutes from Los Angeles and Hollywood.
1- Temecula Valley Wine Country Autumnfest Hot Air Balloon Flights
(Daily)
Grape Escape, California Dreamin', and Magical Adventures float serenely with spectacular vineyard views. Chance opportunities may include witnessing grape harvest. As weather cools, exclusively for two-to-three weeks, vineyards vibrantly change green-to-gold-to-red.
2-Temecula Valley Autumnfest Live Music
(September, October, November)
Thornton Champagne Jazz continues into October. Wineries' live music includes Baily, Bel Vino, Callaway, Danza del Sol, Europa Village, Falkner, Keyways, Leoness, Lorimar, Miramonte, Monte de Oro, Mount Palomar, Oak Mountain, Ponte, Robert Renzoni, South Coast, and Wilson Creek. Old Town Temecula music is at Curry, Fazeli, and Lorimar wine tasting rooms; Front Street Bar & Grill, Gambling Cowboy, PUBlic House, and MERC. Pechanga Casino features concerts, comedy, and nightclub.
3-Old Town Temecula California-Certified Farmers Markets
(Saturdays)
Local purveyors display fresh, California-grown, directly-from-the-farmer, tree-and-vine-ripened, fruits, vegetables, artisan foods, fresh-baked goods, and colorful, fresh-cut chrysanthemum bouquets. Seasonal highlights include exotic-looking, berry-flavored dragon fruit; sweet potatoes, yams; pumpkins, gourds; citrus, avocados.
4-California Wine Month in Temecula Valley Wine Country
(September)
Temecula Valley A.V.A. (American Viticultural Area) celebrates daily with Winegrowers' SIP Passport discount-voucher for wine-tasting flights and souvenir wine glass. September 13, CRUSH Showcase includes award-winning Temecula Valley premium varietals, proprietary blends, fine cuisine, and live entertainment.
5-Temecula Valley International Film and Music Festival
(September 17-21)
TVIFF is a true, independent film and music advocate. Artistic expression, cinematic vision (features, shorts, student films, documentaries, animation), and new, unsigned talents' music excellence are celebrated. Available-for-purchase Festival All Access Pass includes screenings, workshops, music fest, opening-night red-carpet premiere, and closing-night black-tie awards.
6-Temecula Valley Autumnfest Farms, Tours, Grape Stomps, and More
(September, October, November)
By reservation are Temecula Olive Oil's guided, ranch tours with fresh Temecula olive oil tastings (second and fourth Saturdays). Peltzer Pumpkin Farm is daily September 20-October 31; Big Horse Corn Maze, October weekends. Lorimar, Leoness, South Coast, Ponte, and Wilson Creek host Temecula Valley wineries' Grape Stomps. Sip Into Sunset at Briar Rose; visit Robert Renzoni's new Villa; Oak Mountain's new Wine Cave (November). Catch Lorimar Movies in the Vines, South Coast Haunted Wine Tours, and Leoness Winemaker Dinner.
7-Old Town Temecula Quilt Show (October 4)
Displayed outdoors are hundreds of colorful, creative quilts for one of Old Town's most vibrant days. Dine on seasonally inspired butternut squash soup, pumpkin bread, and hand-scooped pumpkin ice cream. Find inspiration shopping for fabrics, patterns, equipment, and supplies.
8-Komen Inland Empire Race for the Cure® (October 19)
At Promenade Temecula are Expo, 5K Run/Walk competition, and fun-run.
9- Temecula Valley Wine Country Harvest Celebration Barrel Tasting
(November 1-2)
Winegrowers event ticket-holders taste finished bottled wines, experience future-vintage tank and barrel tastings, and gourmet food-pairings. Unofficially christened is wine country holiday shopping at wineries like Callaway, Europa Village, Leoness, Lorimar, Monte de Oro, Ponte, South Coast, and Wilson Creek.
10-Thanksgiving Week in Temecula Valley Wine Country
(November 23-27)
For California visitors and Southern California residents, resort-hotel-and-motel Sunday-through-Thursday (better-than-weekend) nightly room rates make Temecula Valley Wine Country ideal for Thanksgiving-week vacations. Activity-filled days include lots-to-see and plenty-to-do; then joyously, effortlessly feast at award-winning restaurants like Bouquet, Café Champagne, Vineyard Rose, Baily's, Gambling Cowboy, CorkFire Kitchen, Great Oak Steakhouse, Umi, and Pechanga Buffet.
*Information is believed accurate but is subject to change.
ABOUT TEMECULA VALLEY AND THE TEMECULA VALLEY CONVENTION & VISITORS BUREAU
With natural gifts of climate and geography (Pu'eska Mountain, Rainbow and Santa Margarita Gaps), Temecula Valley is recognized for its scenic vineyards, award-winning wines, and gracious and friendly wineries as Temecula Valley Southern California Wine Country. The popular boutique destination is home to three-time award-winning California State Winery of the Year, South Coast. Temecula Valley Convention & Visitors Bureau (TVCVB), official tourism marketing organization and resource for visitors is online at VisitTemeculaValley.com; Facebook, "Temecula Valley Southern California Wine Country;" Twitter, @Visit_Temecula; and at FilmTemecula.com. Temecula Valley Visitors Center is located in Old Town Temecula adjacent the free Old Town Parking Garage. For information, please call 888/363-2852 or 951/491-6085.
###