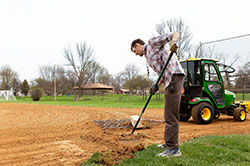 Jackson, MS (PRWEB) August 13, 2014
Forestry Suppliers Inc., a leading authorized reseller of Motorola two-way radios, regularly serves those who work, play, and volunteer in the great outdoors. In honor of National Public Lands Day on September 27, the company released the top benefits that two-way radios can have for volunteer groups as well as staff who work in the park.
National Public Lands Day began in 1994 with 700 volunteers and three sites. Now the nation's largest single-day volunteer event for public lands, it has grown to include more than 175,000 volunteers and park visitors at over 2,000 sites throughout all 50 states, the District of Columbia, Guam, and Puerto Rico. With nationwide encouragement to have volunteer groups serve their local public land sites, many groups contribute by planting trees, maintaining trails, removing litter, and other improvement projects. In 2013, volunteers contributed an equivalent of approximately $18 million in improvements. As groups prepare for their event this September, now is the time to highlight the benefits of two-way radio communication.
1. Group Safety. We highlighted the importance of continued service during emergencies in a June announcement regarding National Safety Month. Two-way radios can be essential in the event of parks and recreation emergencies. If a situation occurs, there is often little notice and group members can become separated or need help immediately. Always read the safety tips from the park's website, such as the National Park Service, and always travel in groups of two or more.
A two-way radio system will allow volunteers and rangers to communicate to ensure everyone is safe. Park rangers can create an open channel for emergency notices and post it within the park. Volunteer groups who communicate via two-way radios help park rangers do their job more efficiently in the face of danger by taking advantage of a fast and reliable line of communication.
Also, many park facilities lack cell phone service. With two-way radios, volunteer members can easily stay connected even when mobile phones do not work.
2. Easy Communication. Two-way radios are an easy-to-use communication tool for nearly all ages and all levels of tech savviness. They can function as a communication tool for the park service professionals who need to report on trail conditions or a volunteer group who may be working across a wide area of the park. Not only do two-way radios provide clear audio communication between the users, but they also feature a push-to-talk button that is intuitive for young children or technology-challenged individuals.
3. Versatility and Durability. For businesses coordinating a volunteer group, two-way radios can be repurposed for use at the office, such as grounds maintenance, front- and back-office activity coordination, as well as future volunteer efforts. Two-way radios are designed to be lightweight but extremely durable. Many models are built to military and IP specs so that even when dropped, the polycarbonate housing does not crack or break. Plus, battery life for industrial two-way radios spans from 12-26 hours, depending on the model.
In addition to two-way radios, don't forget other essentials of outdoor volunteer activities. Be sure to bring plenty of water and wear protective clothing, proper footwear, sunscreen, and insect repellent. Using the right gear is also important for volunteer safety and making efficient use of their time. The Forestry Suppliers Technical Specialists are available by phone at 800-430-5566 from 8am to 5pm Central, Monday through Friday to assist you with any questions regarding your outdoor project.
About Forestry Suppliers:
Forestry Suppliers, Inc. is a worldwide supplier and distributor of general-use and specialty products and equipment for natural resource professionals. Their annual catalog and website contain a complete selection for a wide range of outdoor industries, including forestry, agriculture, arboriculture, landscaping, horticulture, grounds maintenance, surveying, engineering, remote sensing, vegetation management, construction, home inspection, utilities, wild land firefighting, geology and mining, archaeology, anthropology, parks and recreation, golf courses, wildlife management, fisheries and aquaculture, earth science education, environmental engineering, hazmat, and remediation.
Founded in 1949 by Jim Craig, former Mississippi State Forester, Forestry Suppliers, Inc. maintains a distribution warehouse and administrative headquarters in Jackson, Mississippi. For more information about Forestry Suppliers, visit them online at http://www.forestry-suppliers.com.
Forestry Suppliers is a Motorola authorized business two-way radio reseller offering RM Series, RDX Series, CLS Series business radios, and other models. They have carried Motorola products for more than 30 years.
MOTOROLA, MOTO, MOTOROLA SOLUTIONS and the Stylized M logo are trademarks of Motorola Trademark Holdings, LLC and are used under license. All other trademarks are the property of their respective owners. © 2014 Motorola Solutions, Inc. All rights reserved.