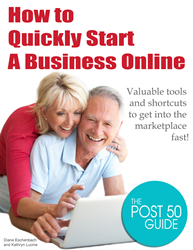 It's easier than ever to turn a hobby into a business, to write, publish and promote a book - Diane Eschenbach
(PRWEB) September 30, 2014
Author Diane Eschenbach has spent years developing shortcuts to starting an online business in just a few months. That's why her new book How to Quickly Start A Business Online especially appeals to those over age 50. Many mature workers are looking to rewrite the next chapter of their work life but haven't all the time in the world to make things happen.
"Retirement isn't always by choice," Ms. Eschenbach points out. "When an employee over age 50 loses his or her job unexpectedly, waiting for a new opportunity isn't always an option. That may be the right time to take those long-lost dreams off the shelf and seriously consider starting an online business."
According to Ms. Eschenbach, the Internet makes it easier than ever to turn a hobby into a business, to write, publish and promote a book, or simply stay engaged in financially and personally rewarding activities.
How to Quickly Start A Business Online is a practical guide without the tech jargon or complex instructions that only the tech savvy could digest. With just a computer and a commitment of time and energy, being one's own boss is an attainable goal. Moreover, since creating a website need not involve coding or custom web design, starting a business is less financially risky.
In the book, Ms. Eschenbach explains the essentials of starting an online business, including playing to inherent strengths, how to generate an idea for a business and how to define the business and position the product. She also provides easy-to-implement strategies for social media as well as ways to evaluate progress along the business journey and make any necessary modifications. Readers will also gain a working knowledge of public relations and book promotion, thanks to two bonus chapters—one by the famed media coach, marketing and PR expert Susan Harrow and another by Amber Ludwig who is a popular online business and marketing expert for authors, speakers and coaches.
How to Quickly Start a Business Online can be purchased on Ms. Eschenbach's website. The website currently offers a free downloadable inspirational poster entitled "10 Principles for Starting a Business Online After 50."
About the Author
Diane Eschenbach is a marketing consultant and start-up specialist. Over the past 30 years, she has advised and consulted many entrepreneurs in developing marketing plans and company infrastructures. She has worked with a diverse industry list of clients including financial companies such as Chemical Bank, and MONY, fashion companies such as AC&R, Arrow Shirt and Chanel, and luxury brand trendsetters such as Bloomingdales. In 2011, after working with the medical industry, she co-authored a peer-reviewed article about Medical Marketing. A pioneering work about the marketing of traditional botanical medicine and has received mention in such publications as the Daily News™, Newsday™ and AARP's Life Reimagined™ Stories.
Ms. Eschenbach holds a bachelors degree in Organizational Leadership with a minor in Psychology from Fordham University.
For more information visit: How to Quickly Start a Business Online or contact Ms. Eschenbach