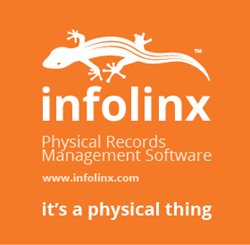 Kensington, MD (PRWEB) October 21, 2014
Today, Infolinx System Solutions, a leading provider of enterprise physical records management software, announced that they would be exhibiting at the Virginia Association of Government Archives and Records Administrators (VAGARA) November 5-7 at the Hilton Virginia Beach Oceanfront Hotel and Conference Center. In honor of their 30th anniversary, the VAGARA board of directors chose the theme "Thirty Years in RIM: A Look Back . . . A Look Ahead." Infolinx will be showcasing the latest version of Infolinx WEB, demonstrating the application's feature-rich functionality.
Infolinx has been providing full life cycle management of inactive and/or archival physical records for numerous organizations including the University of Virginia, the Library of Virginia, Missouri State Records Center, Montgomery County Archives and Records Center, Rutgers (the State University of New Jersey), and many other clients with extensive physical records collections. The solution provides regulatory compliance, tracking of donors, accessions, and records from point of creation while maintaining a permanent audit trail of all activity.
About Infolinx®
Infolinx System Solutions is a leading provider of DoD5015.2-certified enterprise physical records management software. Full life-cycle records management for archives, records centers, and file rooms includes integrated Enterprise Content Management, third-party warehouse integration, robust searching, online requesting, complete audit history, location reconciliation, supply item ordering, retention schedule and legal holds management, integrated RFID technology, space management with charge-back functionality, extensive reporting capability, advanced security configuration, workflow email notifications, and legacy data sharing. Available as an on-premises or cloud-based solution, Infolinx maintains clients within all major business segments and the public sector. Infolinx System Solutions Demo.