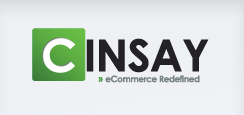 Cinsay continues to grow its portfolio of intellectual property and pending patent applications that are key components to Cinsay's business model
Austin, TX (PRWEB) November 20, 2014
Cinsay, the global leader in social video eCommerce syndicatable technology for web and mobile, has been granted another strategic U.S. patent for 'Interactive Product Placement System and Method Therefor,' U.S. Patent No. 8,893,173. The IP technology is another component to Cinsay's Smart Store™ platform as it relates to 'video overlay' of items over a video and makes objects interactive with the viewer. This newest patent is one of many other patents for Cinsay's video eCommerce technology, which enable merchants to sell directly to consumers inside a video player.
Cinsay continues to grow its portfolio of intellectual property and pending patent applications that are key components to Cinsay's business model of hosting and delivering sharable, syndicatable videos in social networks with built-in eCommerce, donations, couponing and lead generation features.
"We are very pleased with this latest patent grant and we are continuing to build on our extensive IP portfolio over the next several years," said Founder and CEO of Cinsay, Christian Briggs.
"Watch. Shop. Share™" is the theme of Cinsay's technology, and it sets the stage for the company's prioritizing, developing and evolving ecommerce technologies that create the next phase in commerce. The general technology described in the new patent addition, which is part of this next stage, is detailed in the below abstract.
Patent No. 8,893,173 for an "INTERACTIVE PRODUCT PLACEMENT SYSTEM AND METHOD THEREFORE".
A user interface is generated for a video that displays one or more products or services. The user interface can display one or more extracted frames from the video in an overlay, and one or more interactive items (such as hotspots) are presented in the overlay. The interactive items relate to the products or services and allow a user to retrieve further information not previously displayed about the products or services.
Cinsay continues to develop software and technology, which is leading next-generation ecommerce, transactions, donations, interactions and social media for businesses and nonprofits.
Some of the newest success stories using Cinsay's technology include racing and entertainment channels as well as direct marketing and sales organizations. International brands like Andretti Autosport, Risi Competizione and Jeunesse Global are already experiencing more sales, escalation in lead acquisitions and an increase in viewership thanks in part to the shareable and shoppable platform.
To learn more about Cinsay and how businesses are using the technology to gain customers and increase sales, visit Cinsay.com or the Cinsay Marketplace shopping portal for merchant stores ranging from SMBs to international brands.
About Cinsay, Inc.:
Austin-based Cinsay has created a next-generation ecommerce, viewer interactive, video-based platform for any size business. Cinsay's syndicatable technology enables anyone to sell products, display printable coupons, capture donations, and generate leads all inside its multi-patented Video Smart Store™ (VSS) technology. Along with being the premiere video commerce provider for small and medium businesses, Cinsay is adding new exclusive content channels for sports, music and movies aligned with partners including Andretti Autosport via AndrettiTV.com and Suretone Entertainment via their site SureToneLive.com and has been selected as a software provider to SMBs via Yahoo's Commerce Central.
Forbes named Cinsay one of "America's Most Promising Companies" while eTail Conferences named Cinsay a "Rising Star in innovation" for 2012. Red Herring also selected Cinsay for the "Top 100 Companies in North America" for 2014. Cinsay's eCommerce video-based platform can be used for any individual or business. For more information, please visit http://www.cinsay.com or call 855-725-2462.
One or more of the following patents may protect Cinsay's software, systems, and/or services. U.S. Patent Nos. 7,840,415; 7,987,098; 8,312,486; 8,533,753; 8,549,555; 8,769,053; 8,782,690; and 8,813,132. Visit http://www.cinsay.com/patents for more information.