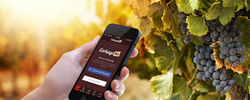 Miami, FL (PRWEB) November 04, 2014
CorkageFee, a mobile app that displays the corkage fees at local restaurants, has integrated Uber into their app, displaying a user's commute time from their current location to their desired restaurant.
A corkage fee is the price of bringing your own wine (BYOW) bottle to a restaurant. CorkageFee allows wine enthusiasts who want to indulge in the bottle of wine they've been saving for a special occasion, search for corkage fees at local restaurants. As part of the new release users can easily set up a ride to and from their chosen restaurant by clicking on the Uber icon. CorkageFee shows users their estimated wait time and lists the price range for their trip. Clear and up to date pricing is at the core of both Uber and CorkageFee allowing users to plan their evening out with no hidden costs.
In addition to scheduling a lift through Uber, the app allows wine enthusiasts to sort restaurants by corkage prices, distance, and ratings, as well as update or verify the listed corkage fee of a particular restaurant. Other popular app features include uploading images of the restaurants wine list, reviewing the restaurant's dining experience, and leaving a special tip or recommendation for other users.
CorkageFee includes a wine blog with wine tips, reviews, and pairing recommendations that compliments its community feel. The app launched with verified corkage fees for different US locations, including Miami, FL, New York, NY, Chicago, IL, and California cities, like San Francisco, Napa, Santa Barbara and Sonoma. It continues to expand as more users download and contribute to the community.
"CorkageFee was built with wine lovers in mind. Ordering wine online has become more and more popular and we saw the need to provide a centralized location for corkage fees to cut down the time it can takes to locate that information. Adding the Uber feature also helps eliminate the hassle that comes from driving to a restaurant and having to waste time looking for parking." Adrian Esquivel, CEO at TECKpert, the team behind the app. "Whether users are celebrating a special occasion or a casual night out, they can toast their special bottle of wine, while enjoying a great meal and not have to worry about driving." adds Adrian.
CorkageFee is designed and developed by TECKpert, a Miami-based digital agency, and is available for free on the Apple app store today. An Android version is scheduled to be released by early 2015.