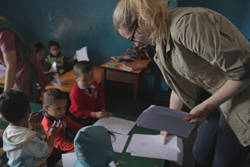 Working with these kids was an amazing opportunity.
Sheridan, Oregon (PRWEB) November 06, 2014
A goal of the Delphian School has always been to effect change in the world for the better.
"Increasingly over the past few years, more of our students are planning practical projects that reach beyond the Delphian environment into the world around them," says the Upper Dean, Kelly Hepburn. While the name doesn't quite do it justice, the Dean says these have come to be known as "Global Outreach Projects".
Eight of Delphian's graduating seniors last year took community outreach beyond our country's borders, and this has ignited a continuing trend this year. One example was graduating senior Deirdre Keough. For her honors project she traveled with fellow senior Hannah Robertson to spend three weeks in Nepal. While there, Deirdre and Hannah volunteered at a school, working with children 3-6 years old on basic arithmetic, English, art, and music. They also spent time with some of the older students at a Nepal scout camp, where Deirdre and Hannah acted as camp leaders.
Through this interaction, they were able to share American traditions with the people they met. They were also able to learn a rich mix of cultures and experience time-honored traditions about life in Nepal--something they never thought they would learn before going.
"Working with these kids was an amazing opportunity," Deirdre said. "I learned a lot about about the educational systems in Nepal and realized two things. First, that their educational system (generally) is poor, and second, that something needs to be done to better the state of education in the country." This trip has inspired her to plan a return to Nepal and bring Study Technology to them on a greater scale.
The ripple effects of students getting out on a global scale and then returning to share their experiences with the student body has opened up new avenues into the world for current Delphian students.
Inspired by Deirdre and Hannah's trip to Nepal and a strong desire to make the world a better place, a Delphian student from Texas is considering a trip to Mongolia to a hospital in the capital to help doctors with patients in need of special care and assistance.
Two other students, one aspiring doctor from Asia and an aspiring Veterinarian from Mexico, are working on plans to travel to Guatemala to teach English to underprivileged youth.
Another junior from Mexico who plans to become a doctor is considering going to Tanzania to an understaffed and under-resourced hospital for two weeks to help patients, clean wounds, assist doctors and otherwise help people in need while gaining experience in his intended future profession.
You can read about another graduating senior's, Natasha Ortega, trip to India to work with a leper colony here.. Or read about graduating senior Mikai Karl's trip to Afghanistan and watch his touching film about his adventure here.