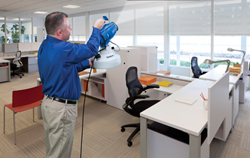 You can spray a child's toy with it, but it still has the efficacy of a hospital-grade disinfectant.
Alpharetta, GA (PRWEB) November 26, 2014
Every year, businesses in the United States lose nearly 111 million workdays to the flu, which equates to approximately $7 billion in sick days and lost productivity. With the peak flu season kicking off in December, cleaning-services leader JAN-PRO is ready to step up and assist business owners across the country with its state-of-the-art EnviroShield disinfecting system that kills harmful bacteria and viruses on contact.
Long before headlines about enterovirus or Ebola surfaced, Premium Franchise Brands — parent company of JAN-PRO and Maid Right — was hard at work developing EnviroShield®. The hospital-grade disinfectant spray surrounds and clings to every surface it touches, eradicating all traces of bacteria. Yet EnviroShield's® chlorine dioxide formula meets the Environmental Protection Agency's classification as a Toxicity Category IV cleaner, meaning it poses no threat to users' skin, eyes, or lungs. This makes the solution the safest option for deeply cleaning and sanitizing any office or facility, as opposed to a Toxicity Category I cleaner, like bleach.
While JAN-PRO has grown its share of the commercial-cleaning industry by leveraging the power of EnviroShield® to combat germs and viruses, reducing down time and improving worker productivity, providing a strong differentiator in the commercial cleaning industry. EnviroShield® helps reduce absenteeism by protecting work environments and offices from the spread of dangerous bacteria. EnviroShield® cleans and protects furniture, hand rails, doors and all the surfaces in offices and homes with a disinfectant powerful enough for a hospital yet gentle enough for a nursery.
"We launched EnviroShield® four years ago and we're on the cutting edge of disinfecting technology, particularly the green-friendly piece," said Dennis Thompson, Chief Operating Officer for JAN-PRO International Inc. "You can spray a child's toy with it, but it still has the efficacy of a hospital-grade disinfectant. Plus, with our spray applicator, we can coat 100 percent of all surfaces with EnviroShield® due to the electrostatic technology, while using 70 percent less water than normal disinfecting methods."
EnviroShield® keeps all sanitized environments bacteria- and microbe-free for up to 48 hours, making it the frequent-use choice for businesses that require disinfected spaces, such as hospitals, doctor's offices, day care centers, schools, and nursing homes. Earlier this year, Premium Franchise Brands also developed a long-term, preventive complement to its signature product, EnviroShield Endure™. Using the same patented sprayer technology, Endure's solution covers 100 percent of surfaces, and through a polymerization process bonds the disinfectant with every covered area, forming a shield from bacteria around every surface that protects customers for between six and 12 months.
"EnviroShield® completely neutralizes threats to any home or office from bacteria, and we thought the next phase of the disinfecting process would be a longer-term system that really provides a one-two punch," Thompson said. "That's why we developed Endure: to strengthen and complete EnviroShield's® top-down efficiency for disinfecting with a bottom-up layer of long-term protection."
The two-product system increases the value of a JAN-PRO franchise for both regional master franchisees and home-based business owners. Operators of either size can grow their businesses with diversified offerings for several different types of accounts, and at different price points for the client. Because EnviroShield® and EnviroShield Endure's™ blend of hospital-grade disinfecting power and green-friendly benefits is available only to JAN-PRO and Maid Right operators, the franchise brands maintain their competitive advantage in recruiting growth-minded entrepreneurs and in serving clients who value protecting their facilities from bacteria.
In addition, JAN-PRO adds value to its partners' franchise agreements by ensuring they attain JP MedMetrix certification, which signifies that all team members who complete the program have been trained in the highest standards of commercial disinfecting — to which all top hospitals and health care facilities aspire. JAN-PRO's confidence in its partners' qualifications and in EnviroShield's® efficacy allows the brand to offer the strongest written customer guarantee in commercial cleaning: Technicians respond within two business days to any customer complaint made within 24 hours of service, and if customers remain unsatisfied after their concerns are addressed, they receive the next cleaning session for free.
Due to recent events involving infectious-disease concerns, the EnviroShield® product has seen an increase in business and demand, Thompson said. JAN-PRO will continually seek to introduce the best advancements in chemistry to EnviroShield.®
"We're always looking for ways to improve our solution and our game-changing application method," he said. "It's very similar to how the best developers periodically upgrade their software. We're in version 2.0 for EnviroShield®, and as technology improves we want to constantly provide greater service to our customers and more value to our franchise partners."
ABOUT JAN-PRO
JAN-PRO International was founded in 1991 in Providence, Rhode Island, to offer the highest-quality cleaning techniques and systems available to offices and commercial and health care facilities. JAN-PRO's global network of thousands of unit and master franchisees serves more than 35,000 customers in 13 countries. The Alpharetta, Georgia-based company, a subsidiary of Premium Franchise Brands, was recognized with the No. 1 ranking for global commercial cleaners in Entrepreneur magazine's 2014 "Franchise 500."