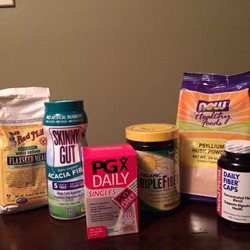 Increase fiber in your diet gradually over a period of a few weeks. This allows the natural bacteria in your digestive system to adjust to the change. Fiber works best when it absorbs water,so drink plenty of water when increasing fiber in your diet.
Orland Park, Illinois (PRWEB) December 08, 2014
Barbara Griffin, NMD, CNC, Certified Gluten Practitioner and founder of New Vitality Health Foods, Inc. explained, "The American diet is loaded with processed foods that are high in fat and sugar. As a result, many people do not get their recommended amounts of fiber. Fiber supplements thus play a significant role in helping achieve all of the health benefit fiber can yield."
Health experts agree that men need at least 38 grams of fiber and women should consume 25 grams of fiber daily.(1) In addition to a diet rich in fiber foods, fiber supplements can ensure enough beneficial fiber is consumed daily.
Dr. Griffin added, "Fiber comes in two forms; soluble fiber which dissolves in water and insoluble fiber which does not. The differences determine how each fiber functions in the body and attributed health benefits."
Soluble fibers attract water and form a gel, which slows down digestion. Sources of soluble fiber include: legumes, chia, flaxseed, apples, oranges, pears, strawberries, nuts, blueberries, psyllium, cucumbers, celery, and carrots.
Insoluble fibers dissolve in water and promote the movement of material through the digestive system and increases stool bulk. Sources of insoluble fiber include: avocado, potato skins, seeds, nuts, brown rice, zucchini, celery, broccoli, cabbage, onions, tomatoes, green beans, dark leafy vegetables, raisins, grapes, and fruit.
Fiber plays many significant roles in the body which include:
1. Aids in Achieving Healthy Weight
Fiber naturally helps to control hunger. Many things besides what a person eats affect hunger. For example the composition of the meal, meaning the amount of fats, carbohydrates, protein, fiber, and water content. Eating healthy high-fiber foods makes you feel full, so you can resist eating more food than you need. Fibrous foods also can take longer to chew, giving the brain time to get the signal that you have had enough to eat. Chewing also promotes saliva and the production of stomach juices that help fill the stomach.
2. Helps To Control Blood Sugar
Fiber, particularly soluble fibers, plays a significant role for diabetics because it is an effective vehicle to controlling blood sugar. When fiber is digested, the body handles it differently than the way in which refined carbohydrates, such as white flour, are digested. A portion of the fiber simply passes through the digestive system intact. This difference means that eating foods rich in fiber is less likely to cause a spike in high blood sugar. Fiber does not require insulin to digest. New Vitality Health Foods, Inc. offers specific fiber products which focus on the link between healthy blood sugar levels, appetite and weight gain.
3. Helps Lower Cholesterol
Soluble fiber found in beans, apples, nuts, flaxseed and rice bran plays an important role in helping to lower total blood cholesterol levels by lowering low-density lipoprotein, or "bad" cholesterol levels. Insoluble fiber and total fiber (soluble and insoluble fiber combined) are linked with lower rates of heart disease. Fruits and vegetables, such as apples, beets, carrots, and pears, are rich in both types of fiber.
4. Maintains Bowel Health
Dietary fiber increases the weight and size of the stool and helps to soften it. A bulky stool is easier to pass, decreasing the risk of constipation. In the case of loose, watery stools, fiber can help to solidify the stool because fiber absorbs water. Insoluble fibers help prevent constipation.
The Important Role Of Fiber Supplements
Fiber supplements are usually made from "functional" fiber, which is fiber that is isolated or extracted from plants or animals, with health benefits in humans. Fiber supplements come in a variety of forms and flavors, which can include powders, oils, capsules and chewable tablets. Fiber supplements come in the form of soluble and insoluble fiber. The experienced New Vitality Health Foods, Inc. team can assist in the selection of the best type of fiber supplement to meet the intended health goals.
Like any supplement, it is important to check with a physician before starting a fiber supplement. It is recommended to take fiber supplements one hour before prescription medications or two hours after, because they can affect absorption of certain drugs.
Dr. Griffin cautions, "Adding too much fiber too quickly can promote intestinal gas, abdominal bloating and cramping. Increase fiber in your diet gradually over a period of a few weeks. This allows the natural bacteria in your digestive system to adjust to the change. Fiber works best when it absorbs water, making your stool soft and bulky, so drink plenty of water when taking or eating foods rich in fiber."
Sources:
(1) http://www.webmd.com/diet/fiber-health-benefits-11/fiber-heart?page=2
About New Vitality Health Foods, Inc.:
Established in 1988, New Vitality Health Foods, Inc. provides Chicagolands' largest selection of allergy-free foods that have met their high standards for taste, quality, and nutrition. New allergy-free foods are introduced weekly. They also carry frozen foods, vitamins, herbs, homeopathic, aromatherapy, body care, pet care, household items and much more. New Vitality features only the highest quality, effective nutritional supplements to support their customers' total health. New Vitality Health Foods, Inc. is located at Orland Park Crossing, 14225 S. 95th Avenue Suite 410, Orland Park IL, 60462. (708) 403-0120 http://www.newvitalityhealthfoods.com