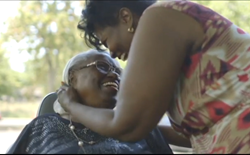 "I want to tell people how much help hospice can be if they don't wait too long [ to be on hospice service ]."
Alexandria, VA (PRWEB) December 16, 2014
Willie Campbell is a 93-year-old great-great-great grandmother, who shares a special bond with her six living generations of family. Hospice is an important part of Campbell's life because it offers comfort for more than her physical struggles.
Willie is sharing her story in a new video that is part of the Moments of Life: Made Possible by Hospice campaign and the basis of a Public Service Announcement that is part of a national engagement campaign being led by the National Hospice and Palliative Care Organization.
This new video and the PSA show how hospice makes family moments possible: moments like attending one last family picnic and holding her great-great-great granddaughter for the very first time.
"Hospice is a saver of life," said Campbell. "I'm comfortable and it has given me a better quality of life and helped me live longer."
For Campbell, the word "comfort" is synonymous with "hospice." Hospice is about keeping patients as comfortable as possible – physically, emotionally and spiritually – ensuring their remaining moments are the best they can be.
"I want to tell people how much help hospice can be if they don't wait too long [to be on hospice service]," she said.
For Campbell's family members, hospice became the answer to keeping their beloved matriarch as content and fulfilled as possible.
"We knew she was in tremendous pain," said Campbell's grandson, Nate Gurley. "What we didn't know was how to bring her relief. So we did our research – hospice became the obvious choice."
Because of hospice and the comfort it provides, Campbell can confidently say, "I'm going to die well."
To learn more about how hospice can provide comfort for you or a loved one, and to find your local hospice, visit MomentsOfLife.org.