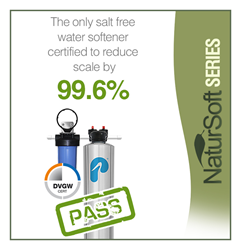 Deland, Florida (PRWEB) March 16, 2015
Pelican Water released the findings of a new research study that compared the effectiveness of various salt-free water softener systems, including Pelican Water's own NaturSoft water softening granules. The scientific study—designed to test the legitimacy of performance claims from other salt-free water softener manufacturers—was conducted at the Technologie Zentrum in Mainstockheim, Germany from March to June 2014. The study used verifiable scientific methodologies representing annual water usage by a family of four.
The research concluded that other salt-free water softeners do not offer the same level of performance as Pelican Water's NaturSoft system, which proved 99.6 percent effective in reducing hard water scale. The NaturSoft system is the only salt-free water softener that has been certified 99.6 percent effective by the DVGW, which is Europe's top water industry certification association. The NaturSoft system offers this unparalleled level of performance with a natural process, which uses micro crystals that bond with scale-forming calcium to create more micro crystals; this bonding process continues until all of the calcium present in the water has been neutralized, thus leaving the water softened.
According to the United States Geological Survey, over 89 percent of American households have hard water, or water with a high mineral content. This water can cause corrosion and scale buildup in appliances that use water; these developments can reduce efficiency, create premature wear, and ultimately generate unnecessary utility or repair expenses for homeowners or renters. Hard water can be softened with inefficient salt-based softeners, which replace minerals such as calcium and magnesium with sodium, resulting in water that feels slick and is entirely free of minerals. Salt-free water softening systems provide a more eco-friendly solution by using a low-maintenance and chemical-free process to neutralize hard water minerals without actually removing them from the water. Pelican Water's NaturSoft system offers various benefits over old technology salt-based water softeners, such as the elimination of waste water, the ability to function without electricity, and the production of natural-feeling water that is healthier to drink. Additionally, the system's leading performance ensures that renters and homeowners get the best results currently available from a salt-free water softener system.
About Pelican Water
Pelican Water offers a wide range of affordable and environmentally friendly water treatment products, including salt-based and salt-free water softeners, UV disinfection systems, and sediment filters. Since 2007, Pelican Water has provided leading customer service, competitive pricing, and water filtration systems that are low-maintenance but highly effective. The company belongs to the U.S. Green Building Council, The Water Quality Association, and has an A+ rating with the Better Business Bureau. Pelican Water Systems is determined to provide the best eco-friendly solutions to address common water problems without compromising performance. To learn more about Pelican Water and its products, please visit http://www.pelicanwater.com.