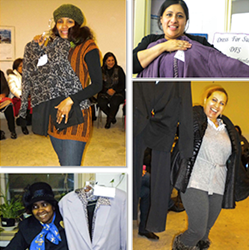 We understand the importance of helping those around us who are in need, so we want to pull the community together and help these women receive the assistance they need to succeed.
Chatham, NJ (PRWEB) April 14, 2015
The John Hawk Agency, Chatham, NJ, announced the debut of its charity program designed to benefit the local community. The agency will work closely with nonprofit organizations in the area, to nominate a new beneficiary every 60 days. The idea is to create a campaign to help the elected individual, family or programs with immediate support by bringing awareness to those very important causes.
To launch the program, John Hawk, the agency's principal, has chosen to introduce Help Women Dress For Success. The campaign's mission is to promote the economic independence of disadvantaged women by providing professional attire, a network of support, and an abundance of assistance tools to help these women thrive in work and in life.
Each new cause showcased by the agency will accompany a detailed story about the elected cause on a designated donations page. To join The John Hawk Agency in supporting Help Women Dress For Success, donors are encouraged to visit the Campaign Page and share it with their friends and family through social media and email.
With the newly launched program, The John Hawk Agency takes responsibility for promoting that page through its many channels, to include its own database of thousands of customers, business partners, staff, neighbors and friends. In addition, the agency's team will be supporting the Dress For Success Ninth Annual Gala on April 23, 2015. The event is designed to raise funds and raise awareness of the organizations mission, which is to assist under-served women who are about to enter or are re-entering the workforce.
The agency also owns a monthly publication, Our Hometown magazine, which reserves a full page featuring the campaign of the chosen cause. The electronic Flipbook version of the current issue of the magazine can be accessed here: http://johnhawkagency.com/Our-Hometown-Magazine_41
More information about the agency's initiative and services can be found at http://johnhawkagency.com
About The John Hawk Agency
We strongly believe that just because you have insurance does not mean you are protected. You need the proper coverage for your lifestyle. Don't leave it up to chance when it comes to protecting your auto, home, business and family, especially during these challenging economic times. We always treat you as a person not a policy. We will take the time to listen to your needs and help you with your coverage selections. For assistance in staying protected, call 973-635-9494 or visit: http://johnhawkagency.com