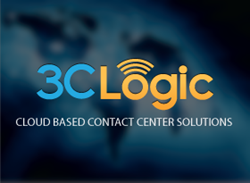 We are proud to be one of the leading providers of cloud call center software and are excited to be returning to both conferences.
Rockville, Md (PRWEB) April 22, 2015
3CLogic, delivering next generation inbound, outbound and blended cloud contact center solutions, today announced it will exhibit at both ICMI's Contact Center and Call Center Week's respective annual conferences. The company will showcase its feature rich call center features and capabilities, for which it scored high marks in the latest DMG Consulting LLC's annual 2014-2015 Cloud-Based Contact Center Infrastructure Market Report, in addition to the latest software enhancements.
"We are proud to be one of the leading providers of cloud call center software and are excited to be returning to both conferences," expresses Raj Sharma, COO at 3CLogic. "As businesses continue to consider the benefits of migrating from on-premise solutions to cloud, we look forward to sharing the significant success our current customers have already enjoyed with new interested prospects."
Known for its ability to integrate with any third-party solution (CRM, WFM, Ticketing, etc.), 3CLogic will host regular demonstrations of its full suite of features including:

Click-to-call
IVR and ACD capabilities
Call recording
Predictive, preview, power, TCPA-friendly dialers
Inbound and outbound lead preview pop
Skills-based call routing
Advanced real-time reporting and analytics
Dynamic Scripting with automatic CRM data populating
WebRTC click-to-call and click-to-chat
And more…
ICMI Contact Center Expo & Conference and Call Center Week represent the largest premier global gatherings for the contact center industry. 3CLogic will be exhibiting at booth #124 for ICMI May 4th-7th in Orlando. It will be exhibiting at booth #822 at Call Center Week June 15th-19th.
About 3CLogic
3CLogic is a leading provider of multichannel cloud contact center software designed for today's enterprise businesses. A true cloud solution, hosted on AWS, it offers seamless integration with other cloud-based solutions, including CRM, Ticketing, WFO and WFM, to allow any organization to migrate from premise-based or cloud platforms without disrupting existing business workflows. Built on a unique distributed infrastructure, it avoids the traditional pitfalls of current solutions while providing market-leading security, scalability, system flexibility, and reliability. Built to enhance sales performance, customer experience, and overall rep productivity, 3CLogic provides a powerful communication framework to help complement any business initiatives.