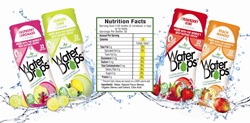 GILBERT, AZ (PRWEB) August 11, 2015
Consumers are becoming more aware of better-for-you choices and demanding great-tasting products without potentially harmful artificial ingredients. SweetLeaf® is once again providing what consumers want by making sweet-tasting choices even better with its two latest additions to their family of products: new SweetLeaf® Water Drops™ and SweetLeaf® Organics. Whether families are looking to flavor their water for better, tastier hydration or sweeten foods, beverages or recipes without adding sugar, SweetLeaf offers options with award-winning taste, NO sugars and NO artificial sweeteners.
SweetLeaf Water Drops are delicious fruit-flavored water enhancers. Just a few drops transform plain or sparkling water into a refreshing Lemon Lime, Peach Mango, Raspberry Lemonade, or Strawberry Kiwi beverage. Even better, Water Drops™ add sweet fruit taste with zero calories, zero carbohydrates and—unlike some other flavor drops for water—NO artificial sweeteners. Made from SweetLeaf Stevia® Sweetener, the stevia brand consistently winning international awards for taste and innovation, Water Drops are full of refreshingly sweet taste while remaining free from sugar alcohols, aspartame, sucralose and high fructose corn syrup.
SweetLeaf® Organic Stevia Sweetener brings a premium sweetener option, certified by Quality Assurance International (QAI), to the organic shopper. Plant-derived SweetLeaf Organics are a delicious alternative to sugar, minus the aspartame, sucralose or high fructose corn syrup or other such sweeteners. SweetLeaf Organic sweetener has zero calories or carbs and a non-glycemic response. Available in convenient packets or a simple shaker, SweetLeaf Organic Stevia Sweetener, like Water Drops, makes it easy to add sweetness without adding a host of other sweeteners that have been called into question for potential health concerns.
"Families can be assured when they choose a SweetLeaf product, they are getting a better-for-you option," said Carol May, President of Wisdom Natural Brands®, SweetLeaf's parent company. "Today's consumer reads labels. The difference is a SweetLeaf label shows the simplicity of the product with no sugars and no artificial sweeteners."
For more information about SweetLeaf, visit SweetLeaf.com. For interviews with company leadership, please contact the names listed at the bottom of the release.
About Wisdom Natural Brands®
Gilbert, Arizona-based Wisdom Natural Brands® is the parent company of two highly respected and award-winning consumer brands: SweetLeaf® Stevia Sweetener and Wisdom of the Ancients® herbal teas. SweetLeaf® is the natural stevia sweetener with zero calories, zero carbohydrates, non-glycemic response, no sugars and NO artificial sweeteners. The only stevia brand to be named a Top Wellness Company and to consistently win numerous global awards for taste and innovation, SweetLeaf is sold in boxes containing 35 or 70 packets, as well as in SweetLeaf Stevia® Shaker jars for easy home use and SweetLeaf SteviaTabs™ Dissolvable Tablets for on-the-go use. SweetLeaf Stevia® Sweetener is available in both natural and QAI certified organic. Offering consumers additional high-quality choices, SweetLeaf Organics are sold in 35 and 70 count packet boxes and shaker jars. SugarLeaf®, also by Wisdom, bonds SweetLeaf Stevia® and cane sugar for a low-calorie sugar alternative that is perfect for baking and cooking. SugarLeaf has 2/3 fewer calories than sugar. SweetLeaf® Liquid Stevia Sweet Drops™ add flavor without calories or carbohydrates to favorite foods and beverages. Sweet Drops™ also have NO artificial sweeteners. SweetLeaf® Water Drops™ add delicious natural flavor to plain or sparkling water. For more information about SweetLeaf products, recipes, the new SweetLeaf cookbook, Cooking with SweetLeaf Stevia®, and more, visit ShopSweetLeaf.com.
Wisdom of the Ancients® herbal teas, from energizing Yerba Maté Royale® to calming Rooibos and Sympacho®, are available in tea bags and come in a variety of refreshing flavors. Select varieties are also available with a touch of calorie-free stevia sweetener.
Wisdom of the Ancients also produces Cream of Coco™, a natural, sustainable bar soap derived from Mbocaya, an edible nut grown on the Paraguayan coco tree. Cream of Coco is great for all skin types and is ideal as a face and body wash. It's even gentle enough for hand washing delicate fabrics.
SweetLeaf and Wisdom of the Ancients products can be purchased online at ShopSweetLeaf.com or at grocery and health food stores throughout the U.S. and Canada.
MEDIA CONTACTS:
Barbara McFadden
McFadden/Gavender
O: (520) 882-6262
M: (520) 990-6040
barbara(at)mcfaddengavender(dot)com
Alexandra Salazar
McFadden/Gavender
O: (520) 882-6262
M: (603) 801-9398
alexandra(at)mcfaddengavender(dot)com
Website:
SweetLeaf.com
###