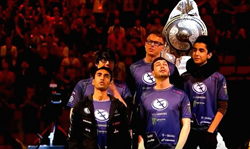 We want Design By Humans to be the destination for everything gaming.
Seattle, WA (PRWEB) August 14, 2015
Evil Geniuses, a popular North American eSports team, won the Dota 2 Championships at The International 5 on Saturday. The competition took place at a packed KeyArena in downtown Seattle, and was viewed by millions of people streaming the event from around the world.
The U.S.-based team took home a record-setting cash prize of $6.6 million. The overall prize pot reached over $18 million, with the rest of the crowd-sourced funds being distributed amongst the remaining 15 teams.
To win the title, Evil Geniuses had to endure being knocked into the loser's bracket by CDEC, a Chinese team, whom they later came back to defeat 3-1 in the championship round.
Design By Humans is a proud sponsor of Evil Geniuses, supplying the team with custom jerseys, T-Shirts and hats. In addition, a wide variety of Evil Geniuses merchandise can be found in the official team shop at Design By Humans.
"We have a really strong passion for gaming and are just as much fans of Evil Geniuses as we are partners," says Gaming Business Development Director, Trey Swartz. "Design By Humans is thrilled to witness their success and we'll continue to #BleedBlue!"
As Design By Humans positions itself as a leader in gaming and streaming merchandise, they hope to continue supporting eSports teams like Evil Geniuses by offering amazing custom artwork available on high quality apparel like T-Shirts, tank tops, hoodies, team jerseys, snapback hats, phone cases and more.
"We want Design By Humans to be the destination for everything gaming," says president, Jeff Sierra. "We're working hard to not only provide our customers with amazing apparel and custom artwork featuring their favorite eSports teams, but also to support those professional gamers in any way we can."
About Dota 2
Dota 2 is a multiplayer online battle arena (MOBA) video game available for free through Valve's Steam platform. The game can be played on Microsoft Windows, OS X and Linux systems. It is a match-based game where two opposing teams of five players, each controlling a "Hero" with a different skill and specialty. Each team is tasked with having to defend a stronghold, or "Ancient," and to destroy that of their opponent.
About The International
The International is a yearly Dota 2 competition held in Seattle that pits 16 teams against one another in a bracket system. Teams from around the world compete for their shot at the grand prize. In its five years of existence, the prize has grown exponentially, as has viewership and influence, as more and more eSports competitions of this kind are created.
About Design By Humans
Design By Humans was started in 2007 with the simple vision of bringing artists from around the globe together. By giving them a platform to produce wearable art that tells a story, they can strengthen humanity and inspire life through creativity and design. The DBH Collective initiative is inspiring amazing artists and giving them a unique foundation to share artwork through a personal storefront. With over 35,000 unique designs on T-Shirts, tanks, sweatshirts, hoodies, kids apparel, phone cases and art prints, DBH offers their customers truly customizable, high-quality products.
###
If you would like more information about this topic, please call +855 333 9836 x 302 or email andrew(at)designbyhumans(dot)com.