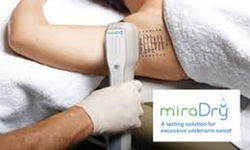 Newport Beach, CA. (PRWEB) August 14, 2015
With the approval from the U.S. Food & Drug Administration (FSA) for the miraDry® system to treat unwanted underarm hair of all color types, the BioSpa medical spa will begin offering miraSmooth® at their Orange County location. Miramar Lab will begin marketing the hair removal treatment under the name miraSmooth.
"We are very excited about the recent FDA approval of the miraDry® system for hair removal. Our practice already uses the miraDry® system to treat patients for elimination of underarm sweat, but now we can use this same system for hair removal as well," added Dr. Jed Horowitz, Co-Director of the BioSpa and Pacific Center for Plastic Surgery, "With miraSmooth's ability to effectively remove any underarm hair color, we can offer the treatment to patients who were not candidates for traditional laser hair removal."
To learn more about miraSmooth®, please visit:
http://www.bioMspa.com/mirasmooth
Miramar Labs is an innovative global aesthetic company creating unique technology for addressing aesthetics markets that have not been successfully addressed in the past. The announcement of Miramar Labs' FDA's approval establishes miraDry® as the only technology cleared for the treatment of underarm hair of all colors, as well as the permanent reduction of underarm sweat. Miramar Lab's proprietary miraWave® technology –use of precisely controlled microwave energy - is the foundation of the miraDry® System. The permanent reduction of hair of all colors using this technology is a significant advancement in the hair removal industry. Unlike laser hair removal systems, microwave energy doesn't require a chromophore to be effective and therefore can be used on hair of all colors, including light colored hair, and is also not limited by an individual's skin color.
"It appears the utilization of microwave energy has a definite future in the aesthetic industry. We are excited to see what new advances are made in the coming years," mentions BioSpa Co-Director Dr. Larry Nichter.
Both Dr. Horowitz and Dr. Nichter are excited to start marketing miraSmooth to the Orange County community. Their BioSpa medical spa has been successfully treating patients with the miraDry® system for sweat elimination, and now they can begin using this same system for underarm hair removal.
About the BioSpa:
The BioSpa, located in Newport Beach, California, is headed by two of Orange County's well regarded plastic surgeons, Dr. Larry Nichter and Dr. Jed Horowitz. Both doctors have over 27 years of experience specializing in both surgical and non-surgical cosmetic procedures. Dr. Nichter and Dr. Horowitz are board-certified by the American Board of Plastic Surgery, and belong to the the American Society of Plastic Surgeons and The American Society for Aesthetic Plastic Surgery, the most exclusive plastic surgery societies in the United States. Dr. Nichter and Dr. Horowitz have received numerous awards over the years for their surgical expertise and patient care. The BioSpa offers a full array of non-surgical treatments such as injectables, lasers, medical grade chemical peels, fat reduction, body shaping, skin tightening, cellulite reduction, hair removal, sweat elimination, as well as several lines of high quality skin care products.