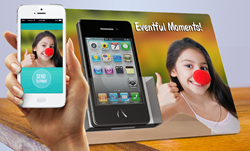 NEW YORK (PRWEB) August 25, 2015
DeskCaddy will officially launch its pre-order campaign on Kickstarter starting August 25th. The success of the crowdfunding campaign over the next 30 days will determine the start of production for the first generation Deskcaddy that's set to ship to buyers before the holidays this year. The milestone will provide more free books to children in need locally and internationally.
DeskCaddy is a mobile docking station design for home, office or workspace which provides unique storage for mobile phones, tablets and other gadgets. DeskCaddy is a dynamic gadget docking station that can also be customized to meet personal needs and promotional needs. DeskCaddy docking station in addition, offers entertainment and transforms into a learning tool or customized smart book. A multi revolutionary device that's affordable and convenient with a purpose to give books for children in need through DeskCaddy One+One Campaign. The One+One campaign is simple: Every DeskCaddy they purchase will enable us to send a FREE DeskCaddy to a child in need. With this buy one/give one offer, together we can make a real dent in the illiteracy rate.
"Education is a fundamental human right for everyone, and the new DeskCaddy puts an incredible experience at everyone's fingertips to help fulfil the void for children in need," said Kevin Peterson, DeskCaddy Inventor. "There are unlimited facets to DeskCaddy organizer that fits for individuals and businesses."
"As part of our mission, we're in support of the ConnectED initiative by committing our products, our knowledge, and our passion for learning to children and schools across the country," said Tracy McGrady. It's an important first step to use DeskCaddy to fulfill the needs.
DeskCaddy Features
DeskCaddy will also offer additional features such as the Air Freshener, Magnetic Notepad, Remote Control and Smart Watch Docking Stations to enhance the DeskCaddy user experience. In addition for a limited time DeskCaddy Erasable Notebook will be available exclusively on Kickstarter to early bird backers.
DeskCaddy Campaign
DeskCaddy All-Star supporters will be invited to attend a one day Basketball Training Camp and Music Fest for the entire family. Visit http://www.deskcaddybook.com for DeskCaddy presskit and more information. The DeskCaddy Erasable Notebook is available exclusively on Kickstarter to early bird backers.
DeskCaddy is a patented invention of Boostek, Inc.
Boostek Corporation develops innovative products and applications that harness technology with a focus on improving lifestyle and making the environment safer. "Education is every child's right."