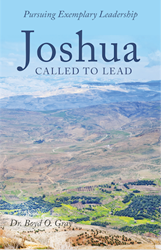 People are restless for someone to lead and keep their promise to bring America back to greatness. This will not happen until we give God his rightful place in society
CINCINNATI (PRWEB) September 15, 2015
With the presidential elections around the corner and other current issues, Americans are desperate for solid leadership and guidance from officials. Many individuals only view business executives, presidents, and top-rank positions as leaders, but there are leaders in the everyday person.
Hoping to encourage people to lead in a way that not only glorifies others but God as well, Dr. Boyd Gray has published his book "Joshua Called to Lead" to be a voice for the searching and confused.
As a minister for over 30 years and a voluntary chaplain on the naval ships while serving in the military, Gray has spent years as a disciple of God and doing practical research to improve society.
Gray wrote "Joshua Called to Lead" due to the lack of guidance and leadership both in Americans and among the popular. He hopes that through an analysis of Joshua's story people will become the exemplary leaders they were destined to be.
"People are restless for someone to lead and keep their promise to bring America back to greatness. This will not happen until we give God his rightful place in society," Gray said.
By reading "Joshua Called to Lead," Gray strives to bring peace to this nation and watch leaders rise up and glorify God. There is a leader in all of us and by reading Gray's raw words; individuals will find their calling.
"Joshua Called to Lead"
By Dr. Boyd Gray
ISBN: 737070
Available in softcover and e-book
Available online at Amazon, Barnes & Noble and iUniverse
About the author
Dr. Boyd Gray has dedicated his life to not only becoming the best leader he can be, but also by pushing others to their greatest potential. As a Vietnam veteran and a minister for over 30 years, Gray has led his community by carrying out God's wishes. Along with his book, "Joshua Called to Lead," Gray has also published "Looking into the Revelation." Residing in the Midwest, Gray enjoys spending time with his family and fishing.
# # #
**FOR IMMEDIATE RELEASE**
For review copies or interview requests, contact:
Kate Wenclewicz
317.602.7137
kwenclewicz(at)bohlsengroup(dot)com