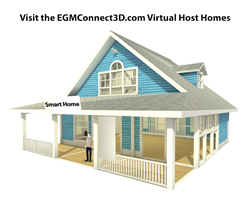 Show founder, Ken Riead, is putting a specific focus on financing options for homeowners' energy efficiency projects.
Kansas City, Missouri (PRWEB) October 28, 2016
The Fall 2016 EGM Connect 3D Virtual Tradeshow opens at 10 AM Central Time today. Registration is complimentary for all show attendees so come on in and stay a while. Don't forget to tour the virtual village of Host Homes where new information about products, services and technologies can be found. (See earlier press release for details regarding Host Homes)
There will be four informative presentations with one given live each evening during the event, starting a 8 PM Central Time, and recordings of the live presentations will remain available in the virtual auditorium for later viewing. Here is brief information about each speaker and presentation:
Kevin Kennedy, managing director of the Center for Environmental Health at Children's Mercy Hospitals and Clinics, on creating healthy indoor environments to fight allergies, asthma and other air related illnesses. Kevin speaks at 8 PM Friday evening - October 28, 2016
Dan Chiras, president of Sustainable Systems Design and author of 35 books on green houses, sustainable living, zero energy and more, on how Americans can learn to grow food in small spaces from Chinese greenhouses. Dan speaks at 8 PM Saturday evening - October 29, 2016
Sharla Riead, owner and lead trainer at Accurate Rater Network, on return on investment for energy upgrades and energy mortgage options plus why private sector lenders and investors need EnergySmart teams. Sharla speaks at 8 PM Sunday evening - October 30, 2016
Ken Riead, Executive Host of the Fall 2016 EGM Connect 3D Virtual Tradeshow, on the meaning of the "Road to Zero-Energy & Self Sufficiency Wall" located inside the virtual platform. Ken speaks at 8 PM Monday evening - October 31, 2016
Here is an introduction as to how this unique 3D virtual tradeshow works:
As attendees enter the show, they will see a number of house shaped booths that comprise a virtual village. There are eight host homes providing information on green/sustainable products and technologies, smart homes and smart grids, renewable energy systems, hybrid/electric vehicles, healthy homes, clean-renewable energy plus efficiency and zero-energy buildings, financing options and education/certification opportunities.
Attendees can customize their own 'human' avatar that walks from booth to booth to gather information just like a conventional tradeshow. The avatars are identifiable and attendees can recognize and chat with each other, exchange business cards and even have live conversations including video via Skype. Avatars also interact with vendor representatives in each booth to collect brochures, product literature and contact information in their virtual trade show bag for later retrieval. Information stored in the show bag can then be downloaded directly to a computer or other storage option.
To attend this event as a complimentary attendee, simply use the following link and register: http://EGMConnect3D.com