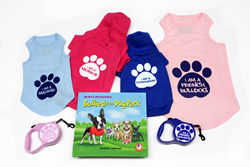 "Deziner Dogs Apparel is irresistible and such an attention grabber. We love to see dog owners with big smiles on their faces"
Glen Cove, NY (PRWEB) February 08, 2016
Deziner Dogs LLC. today announced the launch of a new apparel line for the most popular small-dog breeds in America. The "I am a…" line of hooded sweatshirts, tank tops, and leashes answers the most popular question asked of dog owners: "What kind of dog is that?"
"As the proud owner of a Boston Terrier, I can't tell you how many times I've been asked about my dog," said Deziner Dogs President and CEO Heather Lehrman. "On a walk, at the park, at the vet – everywhere I went, people wanted to know what kind of breed he is."
Continued Ms. Lehrman: "After speaking with many owners of smaller breeds, I realized I wasn't alone – everybody is constantly being asked the same question. Now, my dog Herbie proudly wears his 'I am a Boston Terrier' hoodie when we're out and about – and people can't help but want to know more about the breed."
As dog owners know, it can be difficult to properly regulate body temperature for smaller dogs, who often don't have thick layers of fur to protect them when temperatures drop.
"The tank tops and hoodies not only look great, they keep our best friends warm in the cooler months," said Ms. Lehrman. "But the most unique aspect of our 'I am a…' line is how they spur conversations and connections between people," said Ms. Lehrman.
The Deziner Dogs "I am a…" line currently encompasses a wide range of small breeds, including Boston Terrier, French Bulldog, Maltese, and Pug. Trendy breeds like Teacup Poodle, Westie, and Cockapoo are also available.
"They make the perfect gift for the dogs – or dog lovers – in your life," said Ms. Lehrman. Additional merchandise, including fitted raincoats, will be added soon.
Proceeds to Help Animals in Need
Deziner Dogs will donate 5% of all profits from the sale of "I am a…" merchandise to SNORT, an all-volunteer registered 501(c)3 non-profit rescue based in the Northeast. Its purpose is to rescue brachycephalic dogs (mostly French Bulldogs, Boston Terriers, Pugs, and English Bulldogs) from shelters and owners who can no longer keep them, and place them into loving homes.
KickStarter Campaign Runs Through March 17, 2016
Deziner Dogs also announces the launch of a Kickstarter campaign to raise funds to help expand the "I am a…" line.
"Deziner Dogs wants to include as many breeds as possible, but the costs involved are significant," said Ms. Lehrman. "With the generous support of dog lovers, we will be able to add more dog breeds to our line, complete our up-and-coming line of raincoats, and expand our production facilities."
"Depending on the amount they pledge, supporters will receive fun rewards, some of which they can share with their pets," said Ms. Lehrman, who stressed that, "Every pledge, no matter how small, is greatly appreciated."
About Deziner Dogs
Launched in 2016, Deziner Dogs LLC manufactures unique, high-quality apparel for small-dog breeds and the people who love them. Deziner Dogs is committed to the safety and welfare of animals. Visit dezinerdogs.com for more information.
Media Inquiries:
Info(at)dezinerdogs(dot)com