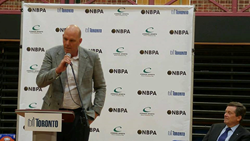 "Connor Sports is extremely proud to have joined our partner the NBPA Foundation to leave behind a positive and tangible legacy that will benefit thousands of youth in Toronto for years to come," said Lauren Gillian, Connor Sports Director of Marketing.
Chicago, Illinois (PRWEB) February 22, 2016
Connor Sports and the National Basketball Player's Association and WestPoint, Connor's local dealer in Ontario, worked together to completely refurbish the hardwood basketball courts at three recreation centers in Toronto in conjunction with the 65th NBA All Star Game at the Air Canada Centre.
Courts at community centers in Toronto that were renovated are: Amesbury in the York community; Armstrong in the Beaches area and Masaryk-Cowan in the Parkdale neighbourhood. Each court received a striking new custom design and a structural makeover including sanding, finishing, sealing and that will provide much-needed new life for each surface and allow for expanded recreational opportunities for local youth at all three centers.
The court at the Masaryk-Cowan Community Centre was formally dedicated on Feb. 11 with a celebration of sport that included youth from the Parkdale neighbourhood, Michele Roberts and Sherrie Deans of the NBPA, Canadian pro basketball players' Sim Bhullar of the 905 Raptors and Nik Stauskus of the Philadelphia 76ers, City of Toronto Mayor John Tory and Gary Gray of Connor Sports and Mike Caruso of WestPoint Sports Flooring & Equipment of Aurora, Ontario.
"We are deeply committed to supporting the young children and increasing their access to the game of basketball," said Sherrie Deans, Executive Director, NBPA Foundation. "We are so excited to dedicate these three courts and hope that children across Canada will be able to enjoy them for years to come."
"Connor Sports is extremely proud to leave behind a positive and tangible legacy that will benefit thousands of youth in Toronto for years to come," said Lauren Gillian, Connor Sports Director of Marketing. "This initiative as part of NBA All Star Weekend in Toronto is a Connor Sports Champions of Community project based on our belief in providing youth with safe places to play and recreate."
ABOUT CONNOR SPORTS http://www.connorsports.com
More athletic events are played on Connor Sport Court surfaces than on any other sports courts in the world. Founded in 1872, Connor Sports courts have established themselves as the standard for professional and collegiate sports. Hardwood used in the courts is from a renewable resource, with the U.S. growing six times more hardwood than is harvested each year. Sport Court® is a registered trade mark of Connor Sport Court International. Since 1974, it has identified the original and authentic modular sport surface, continuously improved and patented to provide the highest levels of quality and performance. Connor Sport Court is proud to be the only sports surfacing company in the world that is independently audited and verified as "Zero Waste" and fully ISO 9001:2008 and ISO 14001 certified. Connor Sports is on Facebook at http://www.facebook.com/connorsports and on Twitter @Connor_Sports.
ABOUT THE NBPA http://www.nbpa.com
The National Basketball Players Association (NBPA) is the union for current professional basketball players in the National Basketball Association (NBA). Established in 1954, the NBPA mission is to ensure that the rights of NBA players are protected and that every conceivable measure is taken to assist players in maximizing their opportunities and achieving their goals, both on and off the court.