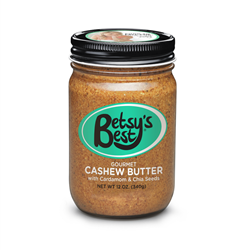 I want people to think outside the box when it comes to using nut butters
Naples, Florida (PRWEB) February 23, 2016
The new year has brought exciting changes to Betsy's Best, including a delicious new flavor—Gourmet Cashew Butter—and a refreshed logo.
The Gourmet Cashew Butter joins the Betsy's Best lineup of Gourmet Almond, Peanut and Seed Butters already available, and features a delicious blend of natural cashews with a pop of cardamom and crunch of chia. The unique cardamom cashew blend was the brainchild of Betsy's Best President and CEO Betsy Opyt.
"I want people to think outside the box when it comes to using nut butters, so I spent a lot of time in my kitchen developing the cashew butter," Betsy says. "I use my nut and seed butters when preparing all kinds of dishes—from breakfast to dessert—so I wanted a sweet and savory nut butter that is versatile when cooking. The combination of cashews and cardamom pair well as a marinade for steak or a rub for lamb, and you can still enjoy it as a traditional spread for your afternoon snack."
While the cashew and cardamom combination tastes delicious, roasted cashews offer bonus health benefits since they are loaded with vitamins, minerals, fiber and protein. Add the rest of Betsy's Best all natural ingredients, including Himalayan pink salt, chia seeds and honey, for a cashew butter that's tasty and nutritious.
Betsy's Best will celebrate "Cashew Butter Week" starting Feb. 29 to promote the new flavor. Check out Betsy's Best Instagram (@BetsysBest) and Facebook (Facebook.com/LoveBetsysBest) for original recipes daily using the new Gourmet Cashew Butter.
In addition to the new flavor, Betsy's Best rolled out their refreshed logo at the beginning of 2016. This completes a full brand redesign that includes updated packaging. Glass jars have been swapped out for BPA-free plastic jars, a change that will pass shipping savings onto customers ordering online.
"Betsy's Best has experienced amazing growth in the past two years, and we have many new Betsy's Best lovers around the country," says Betsy. "We listened to our customers and updated our brand identity to reflect the fun and playful nature of Betsy's Best, and we changed the packaging to make it more cost effective for customers buying online. We're excited for these changes and hope our customers love them just as much as we do."
About Betsy's Best
Betsy's Best® is a gourmet line of delicious nut and seed butters created by dietitian and 2015 Florida Young Mother of the Year, Betsy Opyt. Featuring a signature blend of distinctive, key ingredients like cinnamon and chia seeds, these nut and seed butters are not only healthy but also uniquely flavorful.
The Betsy's Best lineup includes Gourmet Peanut Butter, Almond Butter, Seed Butter and new Cashew Butter. For more than 60 hand-crafted recipes and to learn more about Betsy's Best, go to http://www.BetsysBest.com. Betsy's Best brands are the initial offerings of Healthy Concepts Food Company, LLC.