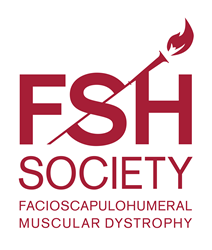 (PRWEB) February 29, 2016
Today, The FSH Society is celebrating its 25th anniversary. For a quarter century, the FSH Society, a nonprofit, patient-driven organization that supports research and education, has helped individuals with facioscapulohumeral muscular dystrophy (FSHD) and their families educate the general public, fundraise for research to find a cure and has fostered community support.
Founded in 1991 by Stephen Jacobsen and Daniel Perez, two individuals with FSHD, the Society has grown to be the world's largest and most progressive grassroots network for those with FSHD, their loved ones, clinicians, and researchers who are dedicating their work to FSHD.
Since its inception, the Society has established and has funded more than $6.85 million in research grants, which have been leveraged to over $94 million in funding from the National Institutes of Health. Its efforts have resulted in many accomplishments, including the discovery of the genetic causes of FSHD.
Other milestones include:

In 1994, Daniel Perez gave his first testimony before the U.S. House of Representatives Appropriations Committee to advocate for federal attention and funding for FSHD.
1998, the first FSH Society Delta Railroad fellowship for high-impact research was awarded to Alexandra Belayew in Belgium, this seminal work to study the DUX4 pseudogene would later show that it causes FSHD.
In 2001, the FSH Society wrote the MD CARE Act to include all forms of muscular dystrophy, which was later enacted into law by President George W. Bush.
In 2010, research initiated by the FSH Society led to the discovery of a specific genetic "package," called DUX4, associated with FSHD.
In 2015, a research team funded in part by the FSH Society was able to deactivate DUX4 expression in human FSHD muscle cells using CRISPR/CAS9 technology.
Most recently in 2015, The Society received its eighth-straight four-star rating from Charity Navigator.
"I am overwhelmed with joy, pride and humility to be celebrating the 25th Anniversary of something Stephen and I started as a way to focus resources on understanding FSHD and ultimately finding treatments," said Daniel Perez, co-founder President and CEO of the FSH Society. "Together our Boards, Scientific Advisors, staff, patients and individuals who support us, and those that work with us have accomplished an unprecedented amount of progress in the past 25 years. It is no small feat how fast we've advanced and I look forward to a day in the not too distant future where we gain a complete and clear understanding of how FSHD works and can then treat and ameliorate the disease." said Perez.
In celebration of its 25th anniversary, the FSH Society will be hosting a range of events throughout 2016. On June 21, 2016 the FSH Society will be teaming up with the international FSHD community to host the first-ever World FSHD Awareness Day. The Society will also be convening an international conference and gala for researchers and patients on November 10 through November 12, 2016 in Boston, Massachusetts. More information on how to volunteer, attend or otherwise get involved will be available soon on the FSH Society's website.
The FSH Society also hopes that 2016 will be a standout year for fundraising and funding research, with a fundraising goal of over $2.3 million and plans to fund nearly $1 million in new research grants. To help the FSH Society reach its goals, donate here.
FSHD, one of the most prevalent forms of muscular dystrophy, is a degenerative muscle disease that causes progressive weakness, usually starting with the face, shoulder, arms, legs and torso, but may affect almost any skeletal muscle in the body. FSHD affects approximately 870,000 people and there is no treatment or cure, yet. Approximately one-quarter to one-third of patients end up in wheelchairs.
About the FSH Society: The FSH Society is a world leader in combating muscular dystrophy. The non-profit has provided millions of dollars in seed grants to pioneering research worldwide, creating an international collaborative network of patients and researchers. The FSH Society seeks to serve as a source of information and support for all patients and families with FSHD; act as a driving force in the development of research directed towards treatments and ultimately a cure; and bring support to patients and research for FSHD through effective engagement of governmental and private sector organizations and entities. For eight consecutive years, the Society has received the Charity Navigator's four-star rating, the highest distinction held by less than four percent of non-profit organizations in the country. The FSH Society offers a community of support, news and information for FSHD patients and families through its website at http://www.fshsociety.org. For more information about FSHD, please contact the Society at 781-301-6649.
Press Contacts:
June Kinoshita: The FSH Society
781.301.6649; june.kinoshita(at)fshsociety.org
Theresa Masnik: SHIFT Communications
617.779.1871; FSHSociety(at)shiftcomm.com