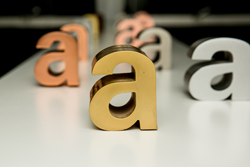 As a company, we believe in the importance of placemaking – and these clients are stewards of creating positive places and experiences within our growing city and community.
Austin, Texas (PRWEB) March 03, 2016
At this year's annual Austin Advertising Federation Addy Awards, Austin advertising and public relations agency lookthinkmake took home four Addy Awards – one silver and three bronze – recognizing the company for excellence in logo design, art direction / typography and website design all of which play a part in outstanding brand development.
"Our clients are doing amazing things, so we're thrilled to see the work done on their behalf recognized at the Austin Addys. The Austin advertising community is talented and growing, and we're proud to be a part of it," said lookthinkmake Partner and Creative Director Sean Thompson. "These awards are especially meaningful because they recognize the creative energy and collaboration that's at the heart of our agency, and the projects and clients that were awarded are positively impacting the future of Austin. As a company, we believe in the importance of placemaking – and these clients are stewards of creating positive places and experiences within our growing city and community.
In fact, three of the four awards lookthinkmake received were for clients who are actively shaping the future of real estate and gathering places in Austin.
The logo system for Fareground at One Eleven and One Eleven Congress Avenue secured a silver Addy. Once complete, Fareground at One Eleven will become Austin's first urban food hall and marketplace, becoming a hub of activity in the heart of downtown Austin. The sophistication and simplicity of lookthinkmake's concept, and the execution of the logo system, complements the quality of the design aesthetic envisioned by dwg. landscape architects and Michael Hsu Office of Architecture – while also incorporating the shape of the building, the "F" of Fareground and the "1s" of One Eleven Congress.
The Independent – Austin's newest and soon-to-be-tallest high-rise – was another lookthinkmake client that was recognized at the Austin Addys, winning a bronze for Art Direction / Typography. lookthinkmake created a campaign platform for The Independent, which included a tagline and brand book, as well as modular headline graphics. The modular headline graphics were designed to mirror the Jenga-like shape of the future building – creating a typography that is as dynamic and unique as the building itself. Elements of lookthinkmake's campaign for the Austin remodeling firm CG&S Design Build also brought home a bronze Addy award, for CG&S' new website, which is part of a new campaign focused on the idea that a home can and should reflect the homeowner's individual personality and style. The updated website reflects CG&S' new campaign, which refreshes the 50+ year old establishment's look and feel and will be executed across print and digital platforms throughout 2016.
lookthinkmake brought home a fourth Addy for the logo and identity of Brakes To Go, Austin's only shopless brake repair service. To capture the company's commitment to service and quality, lookthinkmake brought to life a superhero-esque mechanic mascot, who voices Brakes To Go's commitment to support Central Texas drivers by "Answering the Call" for brake repairs.
Since its founding in 2008, placemaking has been essential to the fabric and roots of lookthinkmake, the clients they work with and the work they've produced. In 2011, this mission and goal was formalized – allowing the company to stretch their placemaking muscles in Central Texas and beyond. In 2015 alone, lookthinkmake was a part of more than $1 billion worth of real estate projects that have shaped the public and private spaces of Austin and Central Texas. Placemaking is where space meets culture, and lookthinkmake has had the privilege of working with such placemaking giants as The Austonian, Jennifer Chenoweth's XYZ Atlas, AIA Austin, the Housing Authority of the City of Austin, Texas Executive Education and Landmarks, the public art program at the University of Texas at Austin.
To learn more about lookthinkmake and what they do for placemaking in Austin, visit the company's website.
###
About lookthinkmake
lookthinkmake is an Austin-based full service advertising and public relations agency made up of geeks, artists, business people, teachers, publicists, event planners, writers, and entrepreneurs. If there's a common thread at lookthinkmake, its doing things for the greater good and the bigger picture. Motivated by this belief, lookthinkmake creates interactive and integrated brand communications that engage all media. You'll find no divas or hotshots here – just a talented group collaborating to help our clients grow. Inspirational campaigns by lookthinkmake have garnered more than 50 industry awards. Learn more on Facebook, Twitter and the company website.