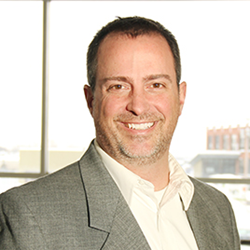 "I'm excited for the opportunity to leverage my unique insight of our technology's core to turn innovation into tactical implementation"
Rochester, NY (PRWEB) April 19, 2016
At the close of last fiscal quarter, CaterTrax appointed John Crowley to Chief Information Officer. John Crowley brings over 20 years of technology, IT leadership, and entrepreneurial spirit to CaterTrax where he is expected to strengthen the technology department as the company sharpens its focus on innovative measures.
Last year CaterTrax announced a refreshed company promise – to be the company who fuels innovation by studying the trends of the industry [it] serves. Since the announcement, the company has been communicating a focus on product innovation to their clients and partners and reflecting on how to meet the changing demands of the noncommercial foodservice industry. CaterTrax executive leadership looks forward to Crowley's contribution to the company's promise.
"Our partners expect our proactive support in building the best solutions that will keep them competitive. We are maintaining our promise to keep a pulse on industry trends and our innovation process is characterized by how we collaborate with our clients and partners, and really determine the needs and challenges of those we serve. John's decades of technical expertise and leadership in building highly scalable web applications and commerce systems will help him lead our seasoned technology team in the tactical implementation of our innovation road-map," said Co-Founder and Chief Strategy Officer, Dan Welch.
Crowley joins CaterTrax from BizNetix, where he served as Founder and President. Before BizNetix, Crowley served as Chief Technology Officer for Logical Solutions, a web design and hosting company. He has held many senior level IT positions at UniteU, Telperion, and PaeTec (now Windstream). Crowley also contributed to the initial development of the CaterTrax code base when the company was in start-up mode in 2004.
"It's humbling to realize that over a decade ago I played a role in developing what is now the TRAX Platform - a powerful system that currently supports over 3,500 sites nationwide and in Canada. I'm excited for the opportunity to leverage my unique insight of our technology's core to turn innovation into tactical implementation," said Crowley.
CaterTrax has expanded leadership over the past year with two additional seasoned leaders, announcing a new Vice President of Professional Services, Kent Michels, to enhance Enterprise Capabilities and a new Chief Financial Officer, Jeff Luchetti, to transition the maturing company into the next phase of growth.
About CaterTrax
CaterTrax is the industry leading online solution developed by hospitality professionals proven to promote, grow, manage, and sustain profitable foodservice businesses. The co-founders of CaterTrax started out with a family-owned catering business where they developed efficient processes for managing large-scale foodservice operations. These processes became the core of our web-based solutions platform. CaterTrax was created by passionate professionals who understand the realities of managing high volume food and hospitality businesses. http://catertrax.com/