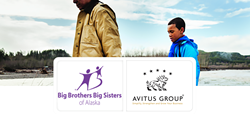 This is truly a wonderful cause for the entire business community to get behind as Big Brothers Big Sisters of Alaska helps develop more college grads, community leaders and entrepreneurs.
Anchorage, Alaska (PRWEB) May 10, 2016
"This is truly a wonderful cause for the entire business community to get behind as Big Brothers Big Sisters of Alaska helps develop more college grads, community leaders and entrepreneurs," says Avitus Group Public Relations Manager Dianne Parker. "We hope to see many Alaska businesses matching our donation. If we can all give a little, we can help a lot."
Big Brothers Big Sisters of Alaska's Over the Edge Event Aims to raise a total of $92,000.00. The first 92 participants to donate $1000.00 are guaranteed a spot to go over the edge.
"Having partners in the business community like Avitus Group that care enough to donate and help us raise awareness is critically important to the work we're doing to improve the lives of Alaska's youth. Avitus Group got the ball rolling with the first donation, and now we're excited to see many more matching donations," says CEO of Big Brothers Big Sisters of Alaska Taber Rehbaum. "Alaska's business community is very generous. We appreciate each and every donation we receive."
BBBS of Alaska and Avitus Group encourage the business community to help raise awareness by taking a picture at Inlet Tower or at the business/organization location and posting it to social media with the hashtag #OverTheEdge907.
"Avitus Group makes it a priority to give back to the communities we're lucky enough to live and work in. Our Alaska Payroll Manager KaSandra Gore is going over the edge in July, and our team is excited to rally around this great cause and help Alaska's youth. Not only will we be at Inlet Towers (in the Chicken Coop) cheering on KaSandra, Team Avitus Group has committed to matching our own donation and raising a total of $2000.00 for BBBS of Alaska," says Avitus Group Director of Operations Alaska Dee Hudson.
Big Brothers Big Sisters of Alaska makes meaningful, monitored matches between adult volunteers ("Bigs") and children ("Littles,") ages 6-18. Statewide, the organization serves approximately 1,000 children with some 300 of those located in Anchorage. The organization's goal is to serve 10% more children, and it's always looking for mentors or "Bigs" who can volunteer a few hours each month. The program accepts female, male and couple volunteers, and often has a need for additional male mentors. The average "Big" commits to spending time with their "Little" 2-4 times per month for a few hours at a time. The organization encourages volunteers to do what they like to do and take a "Little" along.
"Our "Bigs" view this not as an obligation, but as a positive part of their life. When a child has one-on-one attention from a mentor, whether that time is spent shopping for groceries, fishing or going for a walk, it is a small ripple that creates a wave of change in that child's life. That change is lasting, and it's something we're proud to facilitate through our program," says Big Brothers Big Sisters of Alaska Anchorage Development Director Rachael McPherson.
"Our "Littles" do not have stability in their home lives. They may be in the foster care system, living at the Covenant House, living in a single parent home or in a blended family situation where they find themselves needing a stronger support system. Our "Bigs" serve as that constant in their life, and when a "Little" is faced with a tough decision, they often think of how their actions would reflect on their Big Brother or Big Sister," says Rehbaum.
Avitus Group is a worldwide company that simplifies, strengthens and grows businesses by providing administrative support (Payroll, accounting, taxes, HR and much more.) When a business uses Avitus Group, all of the necessary yet burdensome functions of the business become Avitus Group's responsibility, so the business can focus on what it does best. Avitus Group serves clients nationwide through regional office locations from coast to coast. Avitus Group has an Anchorage Operations Center and a Fairbanks Regional Office. The company also serves international clients through partner locations in Europe, Canada, China, England, India, Japan and Singapore.