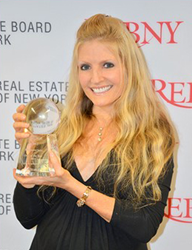 With only a $60,000 budget and in just 8 weeks, Ms. Levy reinvented the tired one-bedroom apartment into a breathtaking two-bedroom showplace - selling it for a staggering $1.6 M - over a 40% profit!
New York, New York (PRWEB) June 04, 2016
New York City's renowned Billion Dollar Broker, Carol E. Levy, principal of Carol E. Levy Real Estate, was recently awarded New York's 2015 Residential Sales Deal of the Year Award, presented by the Real Estate Board of New York (REBNY). As New York's premier independent residential broker for over two-decades, Ms. Levy is the undisputed Queen of flipping properties, and has personally sold over one billion dollars in residential real estate.
This coveted award recognized one of Ms. Levy's recent extraordinary real estate "flips". She had advised one her investor clients that she could make him an enormous profit with a relatively modest property she found - a 725 square foot, one-bedroom apartment in New York City's desirable Upper West Side. Having earned her client millions of dollars over the years by trusting her eagle-eye for finding investment properties, the Billion Dollar Broker skillfully negotiated his purchase for $865,000, and was then handed the key with full rein to perform her famous makeover magic.
Despite only a $60,000 budget and in just 8 weeks, Ms. Levy reinvented the tired one-bedroom apartment into a breathtaking two-bedroom showplace, including designing a spectacular state-of-the-art kitchen, gorgeous marble bathroom, new hardwood floors, moldings and designer lighting.
See the incredible transformation of this property here: http://carolelevy.com/press.html
Known as The Makeover Maven, a name she has trademarked, she then tapped into her huge client base and without any advertising, immediately sold the property for a staggering $1,600,000 – almost doubling the value -- much to her client's delight. This record-breaking flip earned the highest price per square foot ever achieved in the building -- earning her the coveted REBNY award.
"I always strive for perfection in everything I do, including real estate," shares Ms. Levy, "therefore, I approach every property with a critical eye as an artist and designer, not just a broker, as though it is my home. I love conceiving and transforming each property to be the best it can be, drastically improving the aesthetic value, functionality, and selling price. Even my minor makeovers result in major profit increases. My goal is always going above and beyond to set the highest standards and exceed every client's expectations."
About Carol E. Levy, Principal, Carol E. Levy Real Estate
Carol E. Levy is not just a broker…Unlike anyone in the industry she is also an artist, visionary, interior and exterior designer, stager, architect, renovator, construction manager, expeditor, client's representative, marketer and negotiator. As the undisputed Queen of New York luxury flips, Carol masterfully transforms properties to significantly increase the values, from small stagings to major renovations, whether the home is a studio or mansion, for both sellers and buyers ranging from celebrities and billionaires to everyday folks.
Ms. Levy will roll up her sleeves and don a hard hat to paint, knock down walls, re-grout, tile, clean, de-clutter, landscape outdoor space, and stage her properties – whatever it takes to get the job done.
Even more incredible, Ms. Levy does not hesitate to "put her own skin in the game" by personally funding a transformation if her client is unable to, given her confidence in dramatically elevating property values. The fact that she will actually partner with her clients, like a "Shark Tank" broker, gives her clients the utmost assurance in her skills. "I often make my clients into millionaires!" she says.
One recent client shares, "I was stunned. Carol put up her own money, totally threw herself into the makeover, and personally transformed my two-bedroom into a three bedroom in two weeks, when I could not afford to. With her vision and talent, she made me over one million dollars more than 8 other brokers said it was worth! I am forever indebted to her."
Carol E. Levy is known for her expertise, intellect, work ethic, and passion, and she prides herself on going the extra mile with laser-focused attention to every detail. She has a huge referral business and fiercely loyal repeat clientele who know that Ms. Levy is the expert to call when they want to make the largest profits in real estate, whether they are selling or buying.
Ms. Levy lives in a masterpiece mansion she personally designed in the legendary Beresford on Central Park West in New York City, which has graced the covers of luxury magazines. She is a highly sought-after expert for prestigious international media, including television, magazines, and newspapers, and she often writes real estate articles, as well.
For More Information and Media Requests
Ms. Levy's corporate website for CAROL E. LEVY REAL ESTATE: http://www.carolelevy.com
Videos of her extraordinary property transformations: You Tube Channel
Contact information:
212.580.7270
carol(at)carolelevy(dot)com