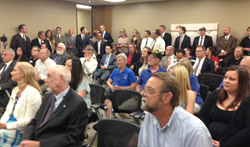 From re-brands to adding and staffing multiple offices across the country, it has been an exciting journey for all of us here at Avitus Group.
Denver, Colorado (PRWEB) July 18, 2016
"From our first day in business on July 1st, 1996 to today, our company has grown significantly to meet the needs of our clients. Throughout the past 20 years of growth, including the most recent addition of Avitus Dental, our mission has remained the same; to help businesses simplify, strengthen and grow by taking responsibility for administrative tasks. By sticking to our core mission of helping businesses succeed, we've grown to become one of the nation's largest companies in the co-employment industry," says Avitus Group CEO and Chairman, Willie Chrans. "I'm very fortunate to be surrounded by such talented operational, management and executive staff who provide the highest level of customer service to our clients. Words can't express how grateful I am for each and every Avitus Group member."
Avitus Group officially marked 20 years in business with a kickoff anniversary celebration July 14, 2016 at the company's corporate headquarters in the Denver metro area. The company plans to keep the anniversary celebration rolling all year long with continued support for local non-profit organizations in communities across the country. The kickoff event was attended by company officials, employees, clients, the business community and local dignitaries, including Congressman Mike Coffman's Chief of Staff Ben Stein, Aurora Chamber of Commerce President/CEO Kevin Hougen and the Aurora Economic Development Council's Director of Business Development Yuri Gorlov. The event featured major company and community announcements, including the launch of Avitus Dental Management Solutions, Inc. in conjunction with the development and launch of a free business training course for dental students nationwide. The company also named Dr. Quinn Dufurrena as Avitus Dental's President/CEO.
"The inception of Avitus Dental comes during a critical time of change in the dental industry where independent practicing dentists need administrative solutions more than ever to run a profitable business. Avitus Dental is being led by a well-known national leader in the dental industry. We're happy to welcome Dr. Quinn Dufurrena to the Avitus Group team," says President of Avitus Payroll Services and Avitus Business Services Ken Balster.
Dr. Dufurrena comes to Avitus Group with an extensive history in the dental practice industry. He has served as a national association leader, a successful practice owner and manager, public speaker, published author and as an associate professor at Colorado Dental School. Dr. Dufurrena is also an attorney, pilot and former Lt. Commander in the Navy where he practiced dentistry. Avitus Dental services include practice management (including dental analytics), human resources, payroll, co-employment, recruiting, marketing and branding, information technology services, accounting services, tax planning and safety management.
"Avitus Dental allows dental practice owners to be independent and supported at the same time," says Dufurrena. "The first thing we do for a client is measure 15 core metrics. For example, we look at the treatment plan acceptance rate. If a patient needs cleaning, fluoride treatment, a filling and a crown, ideally, the practice wants a 100% acceptance rate of the treatment plan. However, all too often, acceptance rates are at 50%. Avitus Dental works with the client to get the metrics and quality of service where they need to be. Our services are designed for the entrepreneurial dentist who is looking to become more efficient. Our business model also helps patients in the community have more access to care."
Avitus Dental also makes it a priority to support higher education. Dufurrena founded and launched Independent Dental Practice Management 101 as a way to give back to the communities and universities that Avitus Dental serves. The course is offered each spring semester as a one-day intensive course at the Avitus Group corporate headquarters training facility in the Denver Metro area and online at no cost to dental students nationwide. The course rotates instructors and topics each semester and focuses on the business side of running an independent dental practice. The course is ideal for dental school students in their junior and senior years and can be taken more than one time as course subject matter rotates. The course is also available to practicing dentists via webinar.
"Many dental students are excited about the prospect of having their own dental practice, but are already overwhelmed by all the non-dental nuances that go along with owning a business, such as employment contracts, insurance collections and so on. Avitus Group's dental practice management course will undoubtedly provide students with invaluable education and a head start on becoming a future business owner," says dental student and Colorado American Student Dental Association (ASDA) President Becky Bye.
Avitus Group also celebrated the past, present and future at the event with a time capsule ceremony highlighting major events throughout company history.
"From re-brands to adding and staffing multiple offices across the country, it has been an exciting journey for all of us here at Avitus Group. Today, I'm very proud and humbled to be celebrating 20 years of company growth, community giving and client enhancement. We wouldn't be where we are today without a strong staff and entrepreneurial clients. For that I am very grateful," says Avitus, Inc. President Don Reile.
Avitus Group also highlighted its continued support of veterans and the Rocky Mountain Honor Flight by launching the Avitus Group Rocky Mountain Honor Flight Business Challenge, which encourages other businesses to match Avitus Group's $1000 donation to send a WWII veteran on an upcoming Rocky Mountain Honor Flight to D.C. to see their memorial.
"Our heart for the community stems from our priority as a company to give back to the communities we are lucky enough to live, work and play in," says Avitus Group Public Relations Manager Dianne Parker.
"From the executive leadership team to management and staff, everyone at this company has a common goal of supporting local businesses and local communities," says Avitus Group Senior VP of Finance Steve Bentley. "As one of the founders, I'm truly proud to be part of this company and grateful for the top notch team I'm surrounded by."
Avitus Group is a worldwide company that simplifies, strengthens and grows businesses by providing 'back office' support (Payroll, accounting, taxes, recruiting, information technology and much more). When a business uses Avitus Group, all of the necessary yet burdensome functions of the business become Avitus Group's responsibility, so the business can focus on what it does best. Avitus Group serves clients nationwide through regional office locations from coast to coast. The company also serves international clients through partner locations in Europe, Canada, China, England, India, Japan and Singapore.