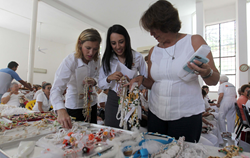 Cancún, Quintana Roo (PRWEB) July 08, 2016
Sunset World Resorts and Vacation Experiences has joined forces with the members of the Golden Years Club so that, through their talent and great skills, they can become a part of the wedding industry by designing a wedding cord to be given as a gift to the couples getting married at Sunset World resorts as a symbol of their union.
Through a contest that took place on June 30th that 19 senior citizens participated in, six designs were chosen to be mass produced during the next few weeks. Each one of the wedding cords will be given to the couples together with advice that the cord makers want to share with those who are venturing into the adventure of marriage.
María de Los Ángeles Bejarano is 72 years old. When she was told about the project, she thought it was not for her, but when she remembered her recently departed husband, she realized that creativity is inspiration: Hers was one of the winning designs. "I was truly happy with my husband -Juan Alfonso García Quezada-, we were boyfriend and girlfriend for 4 years and were husband and wife for 48 years: He died recently and today I am more convinced than ever that you never run out of love, what one feels for the other cannot vanish into thin air," said Mrs. Bejarano.
"The experience and wisdom of elderly people is a gift for the young couples getting married at Sunset World" said Annie Arroyo, Brand and Communications Director for the hotel chain, who also stressed the priceless contribution of the senior citizens at the Golden Years Club to wedding tourism. She also made reference to the close relationship that exists between Sunset World and the members of the Club, an association created by Ms. Arroyo's grandmother Angelita Marroquín.
"It is a great combination of couples who are just starting out and those who have seen it all, as those who usually come to get married here are from abroad, thus we are giving them a very significant gift from Cancún, a wedding cord, a Mexican tradition," noted Annie Arroyo in reference to the craft made by the members of the Golden Years.
She added that the materials needed for making each cord will be contributed by Sunset World together with a special donation to maintain the operation of the association. "The grandads and grannies are all really excited. They love participating in our projects and now that we have given them a very concrete task to work on, they are very happy," concluded Annie Arroyo.
Nadia Galván de la Peña, Corporate Group and Weddings Manager for Sunset World Resorts and Vacations Experiences explained that the north of Quintana Roo remains one of the favorites for destination weddings, mainly for couples from the East coast of the United States. "We are expanding Love, Sunset World Style and the idea behind getting the members of the Club involved is that we are focused on making the bride happy, trying to make her feel all the love that surrounds her," she mentioned.
"We have many reservations, we still have 30 more weddings to take place this year and we already have reservations for 42 weddings in 2017", Nadia Galván pointed out. "Our aim is to offer a very personalized service, with a Romance Manager instead of a wedding planner and we only do a wedding per day, thus the entire hotel is focused on the one bride".
Nadia Galván explained that the weddings that take place at Sunset World, mainly in Hacienda Tres Ríos, usually have 50 to 250 guests, with a yearly average of 45 weddings. "We offer certain activities that no other hotel offers and I believe the word has spread, details such as the bride being welcomed by the heads of all the departments, from maintenance to house-keeping and front desk. We sometimes send the bride a flower arrangement without the groom having to ask for it, just to make sure she feels happy, and, last but not least, we offer spectacular settings," she pointed out.