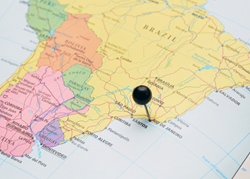 "We are grateful to Insect Shield® for providing our athletes with the opportunity to add another layer of protection between them and the mosquito borne disease threats in Rio, allowing them to further focus on the competition," Liz Soutter, US Rowing
Seattle, WA & Greensboro, NC (PRWEB) July 26, 2016
The world's attention has focused heavily on the current Zika virus outbreak which has already affected twenty four countries in Africa, Asia, and Latin America. The mosquito-borne disease is also a major concern for those heading to the Rio Olympic Games. The World Health Organization has declared Zika an international public health emergency and predicts the virus will likely end up in every country in the Americas. Athletes and media communities scheduled to travel to Rio to compete in and cover the Olympic Games have deep concerns about the health risks posed by the virus and are grappling with how to stay protected.
In response, Insect Shield® Repellent Technology is working with select teams and media groups to offer an added layer of protection, through the use of permethrin-treated clothing, as is recommended by the CDC. Because there is no vaccine for Zika, mosquito bite prevention is critical.
Originally developed for the US military, Insect Shield technology bonds the insect repellent permethrin to apparel and gear products to provide odorless, effective and long-lasting protection. EPA-registered Insect Shield is tested and proven to repel mosquitoes, ticks, ants, flies, chiggers and midges (including those that can carry Zika virus and other illnesses such as Lyme disease, Dengue fever and malaria.)
Insect Shield®'s program to protect athletes and news organization employees who will be traveling to Rio for the Olympics follows the example of leading health and safety-minded employers and international global health agencies who protect their employees by requiring that they wear Insect Shield protective clothing when traveling to and working in insect borne disease risk areas throughout the globe. Insect Shield currently works with a number of oil and gas, mining, forestry and global health organizations to help protect them from insects and the diseases they carry.
USRowing team athletes, in particular, are taking advantage of the Insect Shield Your Own Clothes program enabling them to get their clothing treated with Insect Shield protection prior to their travels.
"The health and safety of our athletes is our highest priority," says Liz Soutter, Assistant National Teams Program Manager, United States Rowing Association. "We are grateful to Insect Shield® for providing our athletes with the opportunity to add another layer of protection between them and the mosquito borne disease threats in Rio, allowing them to further focus on the competition."
About Insect Shield® Technology:
Insect Shield Repellent Apparel and Gear are revolutionary products designed to provide long-lasting, effective and convenient personal insect protection. The durable protection provided by Insect Shield is the result of years of research and testing. In July 2003, Insect Shield Repellent Apparel was registered by the United States Environmental Protection Agency. Insect Shield Technology is utilized by leading lifestyle brands, work wear distributors and International relief organizations across the globe to provide effective protection against insects and the diseases they can carry. Insect Shield is an approved vendor of the US Army and US Marine Corps. insectshield.com
Where to buy Insect Shield protective clothing:
Insect Shield Online store
How to get your own clothes treated with Insect Shield® protection:
Insect Shield Your Own Clothes
CONTACT:
Contact: Janine Robertson
Ph: 206 354-9093
janinerobertson(at)insectshield(dot)com
http://www.insectshield.com
###