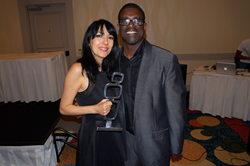 As the years went on and trans people kept dying I began to feel guilty about 'passing'. The death of Leelah Alcorn hit home for me and I could no longer hide. (Cayes Jarda, female-to-male transgender African-American star of LGBT UNITED)
Hollywood, CA (PRWEB) September 08, 2016
California State University Northridge (CSUN) psychology professor and social impact filmmaker Luciana Lagana received the California Endowment Special Sons and Brothers Award for positive and balanced depictions of young men of color at the 2016 Long Beach Indie (LBI) Film Festival from its founder and Perfect Works President Dr. Daniel E. Walker. Dr. Luciana is an active researcher and psychology professor at CSUN and is also passionately dedicated to her roles as host/writer/director/producer of social impact documentary feature films and shows.
LGBT UNITED is a moving film that covers the lives of primarily low-income young LGBT individuals from a variety of ethnic minority backgrounds who have faced challenges including homelessness, sexual abuse, and violence all tied to their LGBT status. This film was listed in The Edge Magazine as one of the 10 must-see films screened at the festival.
Dr. Luciana was both surprised and honored as she heard her name called at the podium and in fact, she hadn't prepared a speech so she spoke from the heart about the need for hate crime to be eradicated in our society, something that holds special meaning for her after having witnessed hate crimes prior to moving to the United States. As an immigrant in America she has also experienced firsthand the way someone perceived to be an outsider can be treated when trying to become a part of life here in the United States. Her passionate plea for acceptance and understanding of minority issues evoked a strong reaction from the crowd, and after her speech, some members of the audience approached her for future collaborations, so she's excited to see what comes from these amazing connections.
Dr. Luciana's filmmaking goal is to showcase the resilience of discriminated minorities, which is a good fit for the mission of this diversity-focused festival. Within the past few years, she has been making web series, TV pilots and feature documentaries in an attempt to decrease negative perceptions of discriminated minorities both in society and among college students. At the festival, Dr. Luciana was invited to present her preliminary findings regarding using her films in experimental anti-bias studies at the LBI Film, Media, and Music Conference. These pilot results have been very encouraging, and have motivated her to continue researching this topic.
In a previous article, Cayes Jarda, the female-to-male transgender African-American star of the movie, shared that "I am very fortunate to have been 'passable' even before I began HRT. I was able to blend in very easily with my heterosexual counterparts and was told that this was a good thing by many people who loved me. It made sense to 'pass'. As the years went on and trans people kept dying I began to feel guilty about 'passing'. The death of Leelah Alcorn hit home for me and I could no longer hide. People need to know that we are human and deserve to be treated as such. Being a part of this documentary is important because in 2015 people still believe that you can 'catch gay."
"It is a great honor to have received this diversity award and to see such supportive reactions to my speech by amazing filmmakers at the gala event. The experience of being able to showcase the lives of Cayes and other strong LGBTQ members has been incredible. This win is dedicated to all of them. I hope that many people will be inspired by their stories," concluded Dr. Luciana.
Luciana Lagana is a caring clinical and experimental psychologist. She is also a professor of psychology, gerontology, women's health and sexuality at CSUN, where she teaches classes and mentors many undergraduate and graduate students. Additionally, since 2002, she has been conducting government-funded research at CSUN on the physical, psychological, sexual and social health of ethnically diverse, primarily low-income older women. Since 2006, she has also been pursuing her creative endeavors by studying acting, TV and radio hosting, screenwriting, directing and producing in Los Angeles. She has over 50 IMDb credits for hosting and acting in many independent feature films, TV pilots and web series as well as several credits for her award-winning screenwriting, directing and producing. She is the writer/lead actor/director/producer of the 2014 award-winning satirical web series INTIMATE TEMP AGENCY on helping young people with special needs find employment, which won Best Trailer at the 2015 Hollywood Reel Independent Film Festival among other awards. Her 2014 DR. LUCIANA SHOW – AGING AND FALLING web series won numerous awards, including Best Educational Show at the 2015 WorldFest-Houston International Film Festival. Within the past two years, she co-wrote, hosted and co-produced the TV pilot DR. LUCIANA ON AGING AND FALLING and also wrote, hosted, directed and produced three award-winning social impact feature documentaries, UNDERSTANDING PAIN IN OLDER AGE, LGBT UNITED and AGING AND FALLING, which are currently on the film festival circuit.