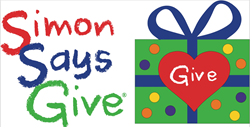 "It seemed so clear that something needed to be done and that kids could join forces to make a difference." - Mandi Simon
Eagan, MN (PRWEB) September 23, 2016
Local teen and founder of a charitable organization Simon Says Give is expanding her push to help local kids in need. On the heels of multiple successful fundraisers and events for her non-profit organization, 13-year-old Mandi Simon of Eagan is stepping up her efforts with another High Five for Supplies event.
On September 24, Simon Says Give will host High Five for Supplies in partnership with Volkswagen of Inver Grove and Hometown Meats. The goal of this event is to support more than 2,000 kids in local communities with backpacks and the necessary supplies they need to have a successful school year. Mandi and her team have a goal of helping 10,000 kids this school year. With the September 24 event, they hope to get even closer to reach their target.
Mandi Simon came up with the idea for Simon Says Give when she was just 7 years old. With a focus on "Kids Celebrating Kids," Simon Says Give supports local children with birthday celebrations, school supplies and backpacks, and leadership opportunities. Mandi came up with the idea of giving back as part of her birthday five years ago. Since then, Simon Says Give has helped more than 20,000 local kids.
"Simon Says Give was brought to life when I started to realize the sheer number of kids who didn't have the necessary supplies when going back to school," Mandi noted. "It seemed so clear that something needed to be done and that kids could join forces to make a difference. With each coming year I hope to increase the number of children impacted by Simon Says Give, and we would like to help two million kids by 2022."
Event details
Date: September 24, 2016
Time: 11am-2pm
Location: Volkswagen of Inver Grove, 1325 50th St. East, Inver Grove Heights
Simon Says Give encourages all who attend the event to bring school supplies, backpacks or make a financial contribution to the organization. Various games and prizes, such as "oil changes for life" will be given away at the event. Mandi will also give a demonstration to teach adults how to change a tire.
Earlier this week, Mandi was a featured speaker at the We Day celebration at the Xcel Energy Center in St. Paul. We day drew thousands of students and adults to downtown St. Paul to celebrate actions that transform communities and change lives. Mandi was featured along with entertainer Paula Abdul, George Takei and legendary NASA astronaut Buzz Aldrin.
For more information or to volunteer with Simon Says Give, contact info(at)simonsaysgive(dot)org or visit http://www.simonsaysgive.org/.
Simon Says Give
At age 7, our Founder, Mandi Simon, knew she wanted to make a difference in the lives of others. Most importantly, the lives of other kids. A few months before Mandi's 8th birthday, she shared her vision to start a company. With the last name Simon, it was pretty easy to come up with "Simon Says Give". From that day forward, Simon Says Give was born, and has blossomed into a value oriented charity foundation, grown almost entirely by kids.