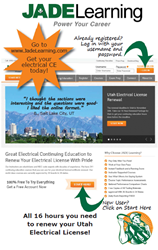 I was able to complete most of my courses on my phone during lunches. I like the ability to review the course work as needed. -R.F. Taylorsville, UT
Raleigh, NC (PRWEB) November 04, 2016
The best 16 Hour Renewal Package for Utah is presented online from JADE Learning, a trusted provider that offers 17 courses for Utah electricians, all of which are approved by the Utah Division of Professional Licensing (DOPL). A licensed electrician in Utah may satisfy their 16 hour requirement with the 16 Hour Renewal Package at a discounted price of $169. The discounted package is on sale until November 15, 2016.
The 16 Hour Renewal Package for electricians who need to renew a license in Utah includes:

Code Calculations (2014 NEC) 4 Hours Core Credit
Overcurrent Protection (2014 NEC) 4 Hours Core Credit
Residential Wiring (2014 NEC) 8 Hours Core Credit
These courses cover Utah license topics: single family and multi-family dwelling calculations, overcurrent protection for appliances, motors, and panelboards, and the requirements for installing electrical systems in dwelling units.
The Utah Division of Professional Licensing (DOPL) requires that 16 hours of electrical continuing education be completed every 2 years before a Utah license is renewed. The Utah electrical license renewal deadline is November 30, 2016. DOPL expects 12 of the 16 hours to be Core credit and the other 4 hours can be Professional credit. Another option is to take all 16 hours as electrical Core credit to get the hours to satisfy Utah continuing education.
JADE Learning reports to Utah Division of Professional Licensing (DOPL) every business day so that electricians can renew their licenses in Utah fast. After the electrical continuing education hours have been submitted to the Utah Division of Professional Licensing (DOPL) by JADE Learning, an email notification will be sent to the licensee. When the hours have been submitted to the board, the licensee can renew Utah licenses online.
By choosing JADE Learning for Utah license renewal, electricians benefit from:
1. All required 16 hours for electrical license renewal in one place.
2. Awesome, real, live customer support available M-F 7:00 AM to 6:00 PM (ET).
3. Courses work on any device – desktop, laptop, tablet, or smartphone.
4. Courses are available at any time, 24/7 – days, nights, and weekends.
5. Pay only after you pass! No cost to register or get started on any electrical course.
6. Daily rush reporting to Utah Division of Professional Licensing, for free.
7. Instant feedback and running score on all courses.
8. Immediate accessibility to certificate and payment receipt.
9. Email notification of reported continuing education hours.
10. Earning continuing education from an established and trusted provider.
All electricians must renew their Utah electrical licenses by Wednesday, November 30, 2016, to continue working as an active license holder. All 16 hours can be taken online: Utah Electrical Continuing Education.
JADE Learning has been an approved electrical continuing education provider in Utah since 2007. JADE Learning will continue to offer engaging, well-written, and industry-specific courses, so look for JADE Learning courses for Utah's next electrical license renewal deadline on November 30, 2018.