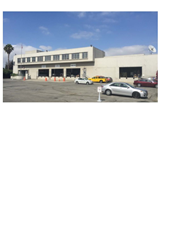 Los Angeles, CA (PRWEB) November 21, 2016
Hackman Capital Partners LLC announced today the purchase of a two-story, 74,000-square-foot building at 5500 West Jefferson Boulevard, located in West Los Angeles, California, on the eastern border of Culver City. The property was purchased from owner/user Modern Props, Inc., which designs and fabricates furniture and high-tech props for major studios and production companies in the entertainment industry. Hackman Capital plans to redevelop the property for creative-office use, a strategy for urban infill markets that has proven successful for the company.
"The acquisition perfectly reflects our strategy of purchasing properties in infill locations with the ability to reposition them for higher and better uses," said Michael Hackman, founder and CEO of Hackman Capital Partners. "The area is thriving as a destination for multi-media and other creative businesses, especially now with the Exposition Light Rail Line's expansion to Santa Monica."
Hackman Capital is no stranger to the area's revitalization. Through its affiliates, the real estate investment and operating company has already converted seven industrial warehouses in Culver City to creative-office campuses, now home to Westwood One Studios and Apple Computer's Beats by Dre headquarters. In 2014, Hackman Capital also acquired The Culver Studios, the iconic movie studio sitting on 14.3 acres in city's coveted downtown.
According to Hackman, the property at 5500 Jefferson Boulevard is ideal for creative-office redevelopment. The location, immediately adjacent to the Metro's La Cienega/Jefferson stop, will be a draw for commuting employees, while the building itself offers an open floor plate, tall ceilings and an original saw tooth roof. There also is 2.3 acres of excess land that provides the ability to construct an additional 177,345 square feet of rentable space to further maximize value at the property.
"The building's incredible bones, unique features, and ability to provide parking offer incredible potential for creative office use. We intend to make the property truly special, creating a self-contained campus environment for one or more tenants," said Matt Landstrom, Vice President of Acquisitions of Hackman Capital Partners.
About Hackman Capital Partners
Hackman Capital Partners is a privately-held, real-estate investment and operating company that focuses on the acquisition of infill industrial buildings in major US markets, which the company redevelops for creative-office and other commercial uses.
Founded in 1986, Hackman Capital has conducted more than $3 billion in real estate transactions across 41 states—having owned, through affiliated entities, over 400 buildings totaling 35-plus million square feet and 24,000 acres of developable land. More than 6.2 million square feet of those properties have been located in California, with more than 4 million square feet located in Southern California.
The company is based in Los Angeles, California with regional offices in Columbus, Ohio, Chicago, Illinois and Boston, Massachusetts. It currently employs 82 people and manages approximately 300 major tenant companies nationwide, including Home Depot, Staples, Coca Cola, Lowe's, Sony and Lego.
For more information, visit hackmancapital.com