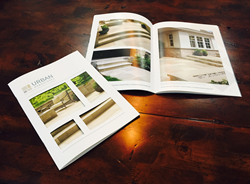 We think the authenticity of our natural stone elevates the perception of projects.
Bloomington, Ind. (PRWEB) November 18, 2016
Lavishly produced and beautifully illustrated, the new Urban Hardscapes brochure from Indiana Limestone Company is a rich source of design inspiration for the use of limestone in the widest possible array of landscape projects.
The 22-page brochure is a comprehensive introduction to the many products in the company's Urban Hardscapes line. These stone products – versatile, beautiful, readily worked, and appealingly cool to the touch – embody solutions of great value to landscape architects, designers, and contractors.
Among the applications addressed in the brochure are walkways, pools, steps, columns, patios, fire pits, walls, and mailboxes.
Products featured here include pavers (available for installation in the Modesto, Highpoint, and Chesapeake patterns), garden steppers for changes in elevation, garden walls, pier caps, wall caps, and space-defining Urban Hardscape Boulders.
Working with its affiliated fabricators, Indiana Limestone Company also can assist in realizing specialized project requirements with custom fabrication services.
The brochure also presents the company's prized limestone veneers: Estate Series in Berkshire, Rockford, and Vanderbilt styles, each available in thin and full bed veneer.
"We're excited to launch the Urban Hardscapes brand and create this new brochure targeted to our Landscape and Hardscape customers and specifiers," said Ben Wojcikiewicz, Indiana Limestone Company product manager.
"We've been making landscape products for a long time," he said, "but our new branding allows us to package it as a portfolio and generate more awareness of our presence in the market and we've recently launched some new products to round out our offering. Our limestone products like sills and caps have long had appeal when specified as a singular material or as accents to other landscape and hardscape materials.
"Competitive to cast products in cost, long-term value and environmental benefits, we think the authenticity of our natural stone elevates the perception of projects. We look forward to seeing what our customers and specifiers create."
To receive a hard copy of the brochure, call Indiana Limestone Company at 800-457-4026. Or, click here to view it online.
For more information on the company and its products, visit IndianaLImestoneCompany.com.
About Indiana Limestone Company
Indiana Limestone Company is unmatched as the premier supplier of Indiana Limestone in a range of beautiful and lasting building products. Founded in 1926 (with predecessor firms that had been quarrying limestone since the mid-1800s), ILCO today remains the provider of choice for this internationally renowned natural stone. Throughout an illustrious history in which its stone has made such iconic structures as the Empire State Building, National Cathedral, and the Pentagon, ILCO has reliably provided the highest quality products and services carefully tailored to the needs of the market with an environmental, natural focus.