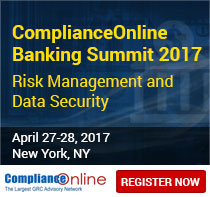 "ComplianceOnline Banking Summit 2017 | Risk Management and Data Security" - Summit attendees are eligible for 16.8 CPE credits upon completion of training.
Palo Alto, CA, USA (PRWEB) November 18, 2016
ComplianceOnline, the leading governance, risk and compliance advisory network with over 500 experts in various regulatory subjects will host a banking summit on April 27 and 28, 2017 in New York, NY. This summit brings together policy makers, regulators, banking specialists, risk managers, asset managers and supervisors to engage, debate, experience share, and deliberate the future of banking in an already connected world.
Register for early bird tickets to one of the largest gatherings of banking industry experts this year.
Technology has revolutionized the banking industry and significantly transformed the way banks do business. Presently banking industry is the most heavily regulated and the regulators are demanding a far greater level of insight and awareness about the risks banks manage, and the effectiveness of the controls they have in place to reduce or mitigate these risks. This banking summit will discuss numerous banking regulations and will feature key topics including risk innovation, modelling and simulation.
Attending this summit will help participants understand:

Emerging industry changes and its impact on bank strategies
Risk governance & the Board of Directors' role in it
Integrated GRC in banks and financial services companies
Mobile banking - beyond the mobile
Perceptions and reality of Panama Papers and AML investigations
Cyber Security and the future of banking
Avoiding the crisis in privacy & ID theft
Understanding and avoiding the curse of mortgage fraud - Hot Legal Issues
Evolution of social media and using it as a growth engine
Role of big data analytics for research, decision support and business innovation
This event gives professionals the opportunity – whether they are new entrants in the field or middle management or veterans – to interact with the leading minds in the industry about the current state of laws and technology and government oversight and more. Professionals will get CPE credits after attending workshop.
New York promises to be a great location for the summit, offering world-class dining and attractions, built on a rich history and unique culture. With hundreds of daily flights to international locations, and a thriving downtown, New York will not disappoint.
For more information on this summit or to get a complete list of speakers, sessions, visit the event website here.
Dates: Thursday, April 27, 2017 (8.00 AM- 4.00 PM) and Friday, April 28, 2017 (8.00 AM- 4.300 PM)
Location: New York, NY
Registration Cost: $1,499.00 per registration
Early bird discounts: For discounts on early registrations, please click here.
Register by phone: Please call our customer service specialists at +1-888-717-2436 or email to customercare(at)complianceonline(dot)com
About ComplianceOnline
ComplianceOnline is a leading provider of regulatory compliance trainings for companies and professionals in regulated industries. ComplianceOnline has successfully trained over 35,000 professionals from 9,000 companies to comply with the requirements of regulatory agencies. ComplianceOnline is headquartered in Palo Alto, California and can be reached at http://www.complianceonline.com. ComplianceOnline is a MetricStream portal. MetricStream (http://www.metricstream.com) is a market leader in Enterprise-wide Governance, Risk, Compliance (GRC) and Quality Management Solutions for global corporations.
For more information please contact:
A Reuben Bernard
Associate Director - ComplianceOnline
2600 E Bayshore Rd
Palo Alto CA USA 94303
Phone - 650-238-9656/888-717-2436
Fax - 650-963-2556
Mail: reuben(at)complianceonline(dot)com
Website: http://www.complianceonline.com