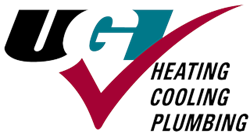 It is an honor to once again win the People's Choice award. Recognition like this doesn't come without a whole team of employees dedicated to providing the best service and support to our customers
(PRWEB) November 25, 2016
UGI Heating, Cooling & Plumbing (https://ugihvac.com) is pleased to announce their selection as the People's Choice Leader in the Heating and Air Conditioning Category in the 18th Annual People's Choice 'Who's Who in Business'. UGI Heating, Cooling & Plumbing is honored by the award; having been chosen the People's Choice for the sixth time by the citizens they serve in Berk's County. Ranking at the top of local consumer's list is a privilege and attests to UGI HVAC's mission to serve their clients efficiently and effectively with exceptional customer service.
The team at UGI Heating, Cooling & Plumbing serves clients with a full range of services and home comfort products 24 hours a day, 7 days a week with the promise of peace of mind year round. Serving the community with outstanding heating, cooling, and plumbing services and equipment is only part of the UGIHVAC story, as they also are proud to be involved with the United Way of Pennsylvania to help friends and neighbors through the United Way Partner Agencies.
The People's Choice Award for Heating and Air Conditioning confirms over 100 years of service by UGI Heating, Cooling & Plumbing. This most recent award joins the company's Angie's List Superior Service Awards as well as the Better Business Bureau A+ Accreditation and speaks to UGI HVAC's commitment to safety, quality, performance, and customer satisfaction.
"It is an honor to once again win the People's Choice award. Recognition like this doesn't come without a whole team of employees dedicated to providing the best service and support to our customers - from our technicians, installers and estimators to our customer service and office support team and everyone in between. We are proud to have such a spectacular group of individuals working at UGI Heating, Cooling & Plumbing." - Pamela Jocsak, General Manager.
UGI Heating, Cooling & Plumbing is excited to grow their long-standing relationship with the community by upholding their mission to provide exceptional value with the highest quality installation, equipment, and services. UGI HVAC considers the community in which they serve to be their home, and their customers are their neighbors. The team at UGI HVAC seeks to meet and exceed customers' expectations at every turn with integrity, professionalism, and workmanship.
Call on UGI Heating, Cooling & Plumbing, the People's Choice in Eastern and Central Pennsylvania, and discover the UGI difference in heating, cooling, and plumbing solutions for your home or business.
Bio: For over 100 years, UGI Heating, Cooling & Plumbing, now a Preferred HVAC Partner for UGI Utility's GET Gas program, has served the greater Bethlehem, Lancaster, Reading, and Harrisburg area, delivering the highest quality products for home comfort and energy conservation with premium customer service provided by their well-qualified technicians and service professionals and backed by a 100 percent satisfaction guarantee. UGI Heating, Cooling & Plumbing's excellent standards are supported by multiple awards including the "People's Choice" award of Berks County, the Angie's List Super Service Awards, and an A+ Better Business Bureau rating.