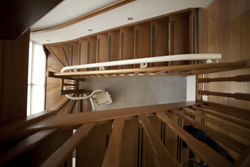 Allentown, PA (PRWEB) November 21, 2016
Handicare, a global leader in stairlift manufacturing, introduces the Ultra Power Battery for its popular Freecurve stairlift. These batteries, with a capacity of 20Ah, more than double the capacity of the Freecurve stairlifts, which enables them to:

Make longer rides without the need to be charged
Be on standby for a longer period of time during a power failure
Complete more rides without needing to be charged
Using "lithium ferro phosphate" technology, also known as LifePo4, these batteries have a very constant discharge voltage. The voltage stays close to 24V during discharge until the battery is exhausted. This allows the battery to deliver full power until it is fully discharged.
With the new Ultra Power battery, the Handicare Freecurve stairlift can ride 2,297 feet, or the length of six football fields, without charging. The Ultra Power battery comes standard with all rails 98.5 ft and longer, but is an optional feature for any stairlifts with expected intensive use.
About Handicare
Handicare is a global leader committed to providing innovative products that promote independence. Handicare offers a wide variety of straight and curved stairlifts to fit the many needs of users looking for a safe and reliable way of overcoming the problem of getting up and down the stairs.