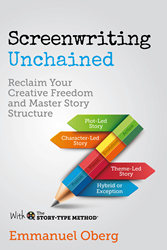 If you've ever questioned why screenplays should be structured in three acts, eight sequences, fifteen beats or twenty-two steps then this book was written for you. And if you never have, well… no time like the present!
London, UK (PRWEB UK) 30 November 2016
Screenplay Unlimited has published Screenwriting Unchained, Emmanuel Oberg's disruptive book on screenplay development and story structure.
This practical, no-nonsense guide leaves behind one-size-fits-all story theories and adapts the development process to each individual project, making it a precious resource for anyone involved creatively in the Film and TV industry: writers, directors, producers, development execs, showrunners and, more generally, storytellers keen to reach a wide audience without compromising their creative integrity.
Having identified three main story-types – plot-led, character-led, theme-led – Oberg reveals in Screenwriting Unchained how each of these impacts on the structure of any screenplay, and how we can use a single set of tools to develop any movie, from an independent crossover to a studio blockbuster. This unique approach leads to a powerful yet flexible way to handle the script development process: the Story-Type Method®. A new framework that doesn't tell filmmakers what to write and when, but focuses instead on why some storytelling tools and principles have stood the test of time, and how to use them in the 21st century.
Emmanuel Oberg says: "I'm passionate about story structure and have spent much of the last twenty years exploring it as a script consultant, development exec and screenwriter, working for European producers as well as Hollywood studios. Prescriptive, dogmatic theories often limit creative freedom and lead to predictable stories. Why not offer more flexible and empowering tools for all involved? Screenwriting Unchained is an attempt to start again and go back to the roots of story structure, in a resolutely modern way".
According to early reviewers, Oberg's new approach is a game changer:
"Without question the most useful book in the marketplace on the writing and development process. […] This is a highly refreshing approach to the subject and one highly recommended to everyone from the aspiring screenwriter to the overburdened development exec." - Dan MacRae, Head of UK Development, StudioCanal
"I have worked through more than a hundred screenwriting books over the last six years, rarely completing most as they tend to repeat the same content absorbed in previous books. Screenwriting Unchained is the exception. Brilliant content, great structure and a refreshing perspective […] A must read for new and experienced screenwriters." - Piet Marais, filmmaker
About the Book:
Screenwriting Unchained is published by Screenplay Unlimited Publishing. It's available for sale at Amazon and other online retailers, as well as to order at most book stores.
The hardcover (ISBN: 978-0-9954981-2-9) retails for £29.95.
The paperback (ISBN: 978-0-9954981-1-2) retails for £17.95.
The eBook (ISBN: 978-0-9954981-0-5) retails for £9.99.
Book Website: http://www.screenwritingunchained.com
Publisher website: http://www.screenplayunlimited.com
Where to buy: http://viewbook.at/ScreenwritingUnchained
About the Author:
Emmanuel Oberg is a screenwriter, author and script consultant with more than twenty years of experience in the Film and TV industry. After selling a first project to Warner Bros as a co-writer, he went on to be commissioned by StudioCanal and Gold Circle before writing solo for Working Title / Universal and Film4. He has also designed an internationally acclaimed 3-day Advanced Development Workshop – based on the Story-Type Method – which he delivers with passion to filmmakers all over the world. Emmanuel lives in the UK with his wife and his two daughters. His film agent is Rachel Holroyd at Casarotto in London.
Author website: http://www.emmanueloberg.com
Review Copies, Media Interviews and Press Kit:
Naomi Telford
Public Relations, Screenplay Unlimited Publishing
+44 (77) 8752 8037
naomi(at)screenplayunlimited(dot)com
http://www.screenplayunlimited.com
For more information, please contact Naomi or download the press kit directly at http://www.screenplayunlimited.com/su-press-kit
# # #