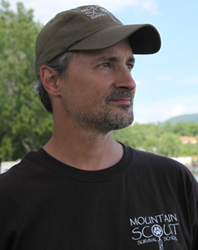 You need to have a working knowledge in all areas of survival, like a jack-of-all-trades, but you don't need to master them all
New York, NY (PRWEB) November 30, 2016
As consumers grow increasingly reliant on modern day conveniences such mobile devices, computers, cable TV, and even refrigerators and electric stoves, their ability to survive in the wilderness or handle everyday emergencies come into question. ExpertFlyer recently went One-on-One with Shane "White Feather" Hobel, Founder of Mountain Scout Survival School in Putnam County, New York, to learn how a survival skills retreat can build self-confidence, strengthen bonds among co-workers, and yes, even save a life someday. The school teaches both wilderness and urban survival skills based on seven core paths, or "arrows," and while participants may excel in one or more of these arrows, it is important to have a good understanding of all of them, according to Mr. Hobel.
"For individuals, it isn't enough to be good at just one thing and terrible at others," Shane Hobel explains. "You need to have a working knowledge in all areas of survival, like a jack-of-all-trades, but you don't need to master them all."
For group survival, however, a particular skill may be all that is necessary to make a huge contribution to the team. According to Hobel, "Having wonderful people skills and a great calming demeanor could be an invaluable skill in a crisis situation or in an emergency. In this instance, who cares if you don't know how to build a fire without matches?"
Hobel and his team plan to open a new school in the Putnam/Southern Dutchess County region in the spring. Under the new Mountain Scout Earth School umbrella, participants can learn a variety of survival skills and focus on any one of 21 areas of study, such as learning everything about edible and medicinal plants, getting kids involved in their permaculture children's camp, and numerous wilderness survival skills.
"There is a growing trend of people participating as a group. Single moms are bringing their kids, entire families are participating together, and companies are bringing their employees to build a new skillset and promote team building. If you're looking for a unique kind of getaway, there is something here for everyone."
"Corporate field trips to build camaraderie and bonding among employees is nothing new, but learning survival skills where groups of people truly need to rely on each other for absolute survival can have an incredible impact on relationships long after the course is over," said Chris Lopinto, president and co-founder of ExpertFlyer.com. "Learning basic survival skills in an environment that is fun, entertaining and educational is a unique approach to destination travel."
To learn more about Mountain Scout, visit http://www.mtnscoutsurvival.com.
To read the entire interview with Shane Hobel at Mountain Scout, please visit ExpertFlyer's blog.
About Mountain Scout
Mountain Scout Survival School exists to share the timeless and enduring wilderness survival skills of our ancestors; the primitive skills of sophisticated people. Learning these skills prepares individuals to survive comfortably without the luxuries of our modern world. Our current social system and reliance on technology has separated us from our innate abilities to connect with the earth. Mountain Scout Survival will help you reconnect. Visit mtnscoutsurvival.com for more information.
About ExpertFlyer.com
Each month, ExpertFlyer's One-on-One blog goes face-to-face with the travel industry's leading decision makers to discuss and address topics relevant to many of today's business and frequent travelers.
ExpertFlyer.com was conceived and created by an eclectic team consisting of a veteran elite tier frequent flyer, an airline captain and corporate travel manager, and information technology professionals to deliver a 24/7 real time powerful air travel information service. The company provides its subscribers and corporate travel managers alike with a complete, concise and efficient way to access the ever-changing details of worldwide air travel information. For more information, please visit expertflyer.com.
Stuck in the middle seat again? Download the free Seat Alerts app from ExpertFlyer and get the window or aisle seat without hassle or frustration.