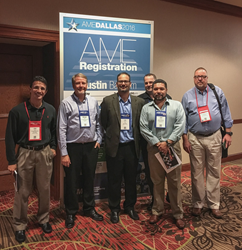 It's important to never settle for 'satisfactory' in our industry. These conferences are a wonderful opportunity to witness new industry concepts and tools.
Melbourne, Florida (PRWEB) November 30, 2016
Leaders from MC Assembly, a leading mid-tier Electronics Manufacturing Service (EMS) provider, recently participated in the Association for Manufacturing Excellence's (AME) Annual Conference in Dallas, Texas.
This is the third year MC Assembly has attended the AME conference. The week-long conference featured many guest speakers, workshops and panels. The attendees said this is a valuable overall investment for the company to consider the ideas discussed at the conference.
"It's a great opportunity to meet with manufacturing companies from all over," said Luis Ramirez, MC Assembly's Chief Operating Officer. "We talk about best practices and how to improve operations."
The conference took place from October 24-28. The members who attended were Vice President of Quality and Engineering Jose Sierra, Senior Industrial Engineer Mike Watts, Continuous Improvement Manager Dan Prina, Operations Director of MC Assembly's Mexico facility Jose Santos, and Operations Director of MC Assembly's Boston facility Thom Hansen.
"It's important to never settle for "satisfactory" in our industry," Watts said. "These conferences are a wonderful opportunity to witness new industry concepts and tools."
 
At the conference, one of the major topics of discussion was lean manufacturing. Earlier this year MC Assembly adopted lean manufacturing efficiency methods with Incito Consulting Group lean manufacturing workshops at their Mexico, Massachusetts and Melbourne facilities. Prina, who serves as MC Assembly's Project Manager of Lean Enterprise and Continuous Improvement, said he was inspired by seeing how so many other companies implemented and talked about Lean manufacturing practices.
"I couldn't wait to get back in the shop and review our True-North direction and share my experiences in Dallas," Prina said.
An important part of the conference is sharing current trends to spark new insights for attendees to consider for their own companies to solve problems, improve efficiency or just better handle an ever changing world and business climate. The MC Assembly attendees said there were some good takeaways they learned at the AME Conference that may help MC Assembly in the near future.
"These all affect in one way or another company growth and revenue," Sierra said. "These concepts will be integrated into our Continuous Improvement Program."
About MC Assembly
MC Assembly (http://www.mcati.com), based in Melbourne, Fla., with additional operations in Billerica, Mass., and Zacatecas, Mexico, is a national leader in the contract manufacturing arena with annual revenues of approximately $200 million. It provides turnkey solutions to original equipment manufacturers and focuses on assembly of medium volume, medium mix printed circuit boards assemblies (PCBAs) and box builds. MC Assembly's capabilities include surface mount and pin-through-hole interconnection technologies, PCB and box build, DFM, DFT, DFA engineering, in-circuit, functional and environmental testing, and full box-build direct order fulfillment.