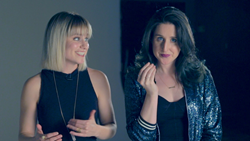 There are 850 million millennial women worldwide who are hungry for incredible entertainment made for them.
Los Angeles, CA (PRWEB) December 27, 2016
Entertainment industry professionals have long known about the pervasive nature of sexism in Hollywood. But what has been less obvious, at least until recently, is the way the public has reacted to the male-centric content. Recent research by Polygraph, accounting for the review of around two-thousand screenplays, illuminated an incredible disparity. According to the study's methodology, female actors were leads in a mere twenty-two percent of films, while males occupied two of the top three roles a whopping eighty-two percent of the time.
The data points to an obvious gap. What's more, it's a gap the public craves to fill.
Movies with female protagonists are outperforming male-centric productions in a big way. Top-grossing movies about females made $126.1 million on average from 2006 to 2015. That's an average of $45.5 million (or roughly fifty-six percent) more at the box office than movies about men.
To reconcile this disparity, X Factor Films is developing a new streaming platform, Blue Fever, to share the voices of Millennial women.
"There are 850 million millennial women worldwide who are hungry for incredible entertainment made for them," says Lauren Tracy, CEO of Blue Fever. "So we're building a platform to house that content."
The company set their sights on leveling the entertainment landscape by partnering with the best emerging and established creators of entertainment content made for young women. Blue Fever will partner with filmmakers to deliver female-driven content, from videos and television series to feature-length films.
About the Blue Fever Creators
Lara Everly, Actress/Director/Writer
Lara Everly is an actress, director and writer in LA championing female-driven comedy. A recent collaboration with Refinery29's comedy channel RIOT birthed Sugar Babies and Baby and Me Yoga. She is currently touring with Lunafest and the film festival circuit with her short documentary about the power of comedy post-prison, Free to Laugh. You can see more of her work at laraeverly.com.
Josie Kaye, Writer/Filmmaker
Josie Kaye is a comedic writer, performer and media guru with experience on both sides of the camera. Her Youtube show, Doctor Josie K, has had over 2.1 million views. She has also written, directed, and starred in commercial television campaigns for major brands like Monistat. To see more of Josie's work, visit josiekaye.com.
Kristine Gerolaga, Actor/Filmmaker
Kristine Gerolaga is an actor/filmmaker dedicated to telling inclusive stories about complex, marginalized people. Check out her latest comedic film on the rough relationship between a woman and her personified period and see more of her work at kristinegerolaga.com.
Jaclyn Gramigna, Director/Writer
Jaclyn Gramigna is an award winning director who uses humor to push boundaries and social consciousness. In her richly sound designed films about human connection, she explores flawed characters and the power of their subconscious, across multiple genres. For more of Gramigna's work, visit jaclyngramigna.com.
Maggie Levin, Screenwriter/Director
Maggie F. Levin is a screenwriter & director with rock 'n' roll roots. She's the creator of LA club hit, THE ROCKY HORROR HIPSTER SHOW, director of THE FRIENDLESS FIVE (Fullscreen), and a pioneer in 360/VR filmmaking. For more of Levin's work, visit maggielevin.com.
Yoko Okumura, Writer/Director/Producer
Yoko Okumura is an award winning writer, director, producer and performer. In addition to co-creating the digital series about trailblazing women, FACETS, she also directed the DGA award-winning short, Kimi Kabuki, as well as a scripted series for Lifetime/A&E's new digital romance brand. See more of Okumura's work at yokofilm.com.
Monica Sender, Writer/Director
Monica Sender is a sought-after writer and director known for her provocative narratives and music videos. A veteran filmmaker, Sender has extensive experience on large studio feature films and works alongside record labels, advertising agencies, and production houses to craft commercial and music video content that inspires action through storytelling. For a sample of Sender's work, visit monicasender.com.
Céline Tricart, Director/Producer
Céline Tricart is an award-winning Los Angeles-based director and new technologies expert. After working on tentpole films as a 3D specialist, she directed a PSA that aired on NBC. Her production company, Lucid Dreams Productions, specializes in Virtual Reality (VR). For more of Tricart's work, visit celine-tricart.com.