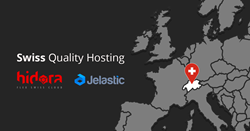 With local support and data centre from Hidora, Swiss developers can be sure that hosting of their applications and data storing are fully regulated by local government and laws.
Palo Alto, California (PRWEB) January 12, 2017
Jelastic Inc., the cloud orchestration platform that combines PaaS, CaaS, Docker containers orchestrator and Elastic VPS offerings in one product with a single management panel, introduced Hidora as a new hosting partner from Switzerland. Hidora provides A-Level flexible cloud solution, ensuring high-performance, accessibility and security for business and service providers, including communication and development agencies, start-ups.
"High quality is a well known brand identity of Switzerland, and it was always number one priority for Jelastic, as well as the reason to continuously enhance the platform. With local support and data centre from Hidora, Swiss developers can be sure that hosting of their applications and data storing are fully regulated by local government and laws, " said Ruslan Synytsky, Chief Executive Officer at Jelastic.
The chief aim of Hidora is to meet the companies' most pressing needs: first and foremost, optimizing the performance, reducing operational costs and simultaneously adapting it to changes in their fast-growing businesses, but also quickly deploying new applications and making them easy to manage, all while increasing staff efficiency.
"Hidora Flex Swiss Cloud opens new offering for companies, developers and system administrators, providing the most flexible platform to satisfy their highest demands. Partnering with Jelastic, we can provide an advanced technology with the support of Docker containers, popular application servers and technology stacks. DevOps can build, ship and run their applications with high-availability in a matter of seconds. What is more, Hidora will provide autoscaling feature - the best argument for customers who want to pay only for what they consume", commented Matthieu Robin, CEO and co-founder of Hidora.
Due to its powerful graphic interface, Hidora's customers can quickly and easily install and manage application environments. As there is no need in apps modification or code change, a new environment is ready and running in a matter of minutes, not hours. The platform offers a wide choice of the most popular application servers, including Java (Tomcat, Glassfish, etc.), PHP (Apache, NGINX, etc.), Ruby, Node.js, .NET and Python, as well as Docker containers.
To ensure users data security and confidentiality, Hidora contractually guarantees all data storing in Switzerland, proven by high standards of Swiss legislation. Recognizing the importance of qualified technical support, Hidora provides effective in-house service with fast response delivery to all customers. Finally, 100% of the power used by Hidora is generated from renewable sources in Switzerland. Hidora provides 14 days trial period for all customers.
About Hidora
Hidora SA offers a hosting platform that delivers an agile user experience, flexible billing and data security, providing an intuitive interface for building applications and deploying them smoothly on PaaS, as well as for creating virtual servers and Docker containers. Hidora Flex Cloud offers a wide range of software solutions and total control over their configuration.
Hidora's elastic model enables automatic horizontal and vertical scalability, adjusting the quantity of resources allocated to an environment to meet demand. With its head office in Geneva, its data centres are located exclusively in Switzerland, ensuring the highest data of protection which is regulated by Swiss legislation.
https://www.hidora.com
About Jelastic
Jelastic is a cloud platform for hosting applications that can be deployed on bare metal hardware or any IaaS. Currently, it is running as public, private and hybrid cloud on top of more than 50 data centers worldwide. The platform provides certified containers for Java, PHP, Ruby, Node.js, Python and .NET and the ability to use custom Docker containers. Jelastic offers agile deployment models without coding to proprietary APIs, flexible automatic scaling for stateless and stateful applications, collaboration, access control, monitoring, backup and disaster recovery, built-in billing and business analytics tools, while driving down TCO with high density and hardware utilization.
For more information, visit us at https://jelastic.com/