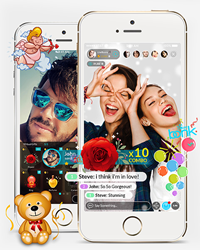 Bonk Live TM a true Cinderella story.
DENPASAR BALI (PRWEB) February 22, 2017
Boink Live Streaming announced today it would be opening its new offices in Bali Indonesia as the corporation had been opened. Additionally they revealed they had signed long-term contacts with the gigantic Castle Productions one of the largest animation company's in Jakarta Indonesia. Castle Productions who created the animations for Bonk Live TM exclusively said they had been working for more than 6 months on special 3d animations for the Bonk Live TM mobile app.
Castle Productions, C.E.O Ardian Eliana, chairman of the Indonesian animation industry and association, who also is on the board of the Indonesian chamber of commerce said, "Bonk Live Streaming SRL will have the best 3d and 2d animations in the world as we build their virtual gift store. He went on to say, they would also use the bonk characters in mainstream animations".
Boink Live Streaming SRL is a True phenomenon founded in 2003. Boink Live Streaming is the muscle that built the new streaming application named Bonk Live TM. The application has been developed with a collection of super clever nerds and geeks. Presently the company has locations in USA, Hong Kong, Philippines, Romania, England, and Indonesia.
With Cutting-edge technology in 2016 the consortium began illuminating the world about their new mobile application. Since then the news about what the application could do has Sky Rocketed into the stratosphere with news reaching Radio Network's, Mobile News, Business Journals, CNN Tech, ABC, News, Fox News, Channel 4 San Diego, channel 11, Cnet News, Dow Jones New wire, Wall street journal Blogs and another 4700 media deliveries.
Bonk Live already has a colossal omnipotence as a goliath with it's new live streaming submission. Boink Live Streaming uniqueness is magical and the other social media moguls cant match the Bonk Live TM brand, as it is geared for the new "Gen Z, iGen" generation.
While Social Media networks have embarked on a legendary race to become the ultimate live streaming platform, Bonk Live TM shrewd Organisation, delayed the launch knowing they will soon Blast Off to millions of anxious users propelling the enterprise into the universe.
Bonk Live President Mr. John Lamb said, "This is the calm before the storm we're far from the end of our development as we will soon be integrating in our next mobile application update virtual reality, hologram reality, virtual 3d teleportation, virtual gaming, as well as mixed reality technology. In 2017 Bonk Live TM will become one of the, if not the single largest social media establishment in the world. Just look at what our new application provides. you can now live-stream video with a single click, in Real-time interaction with special metrics that allow you to gauge the success of your efforts. You can save Live videos; you can broadcast your own live show while playing commercials and music video's earning money and getting paid for by the advertiser.
Joshua Flynn, a director and major shareholder with the company said, "Everyone broadcasting or using our mobile platform will receive a debit card so they can immediately withdraw money from their online earnings. Broadcasters also will receive gold coins or virtual currency and special gifts that can be exchanged for real cash. Anyone using the application can message friends live, email, Talk one on one or be beamed in by local or international broadcasters whose sponsors allow viewers to buy products of the carousal with huge discounts, all the while letting you following interesting broadcasters or connecting to people you really love or care about.
Never before have we experienced the perfect overlap of smartphone technology and the existence of social networking sites. It makes live streaming almost effortless. The prevalence of high-quality smartphones with front-facing cameras have made it possible for users to shoot excellent live video from virtually anywhere.
In today's always-on world where people expect to see events unfold as they happen in real-time, it's all about being present, interactive and transparent with live streaming video. From sharing exciting personal events to unveiling a new product to a worldwide audience, the possibilities of live streaming are endless.
Daniel Skulnick a Canadian and a insider to the company said, "we will see more businesses and brands integrate live streaming videos into their social content. This type of social media allows users to be present and feel immersively engaged while watching live. Multiple platforms are already using live streaming to their advantages such as Facebook Live, YouTube Live and Periscope.
This press release contains forward-looking information within the meaning of Section 27A of the Securities Act of the 1933 and Section 21E of the Securities Exchange Act of 1934, and is subject to the safe harbor created by those sections.