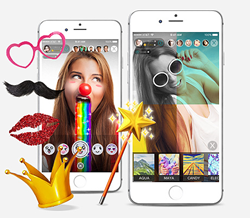 Bonk your Bank and get Money
Bucharest Romania (PRWEB) February 26, 2017
Today Boink Live Streaming announced the incorporating of several mobile banking tools into the Bonk Live TM application. The new streaming Broadcasting application will allow both the broadcaster and the users to use the money they earn by simply transferring cash onto their Bonk Live TM ASAP MasterCard, while using the mobile phone just like a credit card. The new Bonk Live TM APP will allow both the user and the broadcaster to pay their bills, buy goods and services as well as use the Bonk Live TM ASAP Credit card to withdraw money from any local ATM.
Till a few years ago, nobody imagined that mobile phones would be used to transfer money and complete shopping transactions. But now, one doesn't really have to visit a bank, stop by at an ATM, or carry a plastic credit or debit card to make purchases.
A new wave of mobile technology solutions, including mobile banking apps that turn any smartphone into a fully operational personal bank, is sweeping through the banking industry. With cash transfers between mobile phones increasingly becoming a reality, mobile banking could soon become as commonplace as Internet banking.
Bonk Live has connected itself with a Bank in Romania that will connect its mobile platforms for innovative payment models and commerce capabilities. The new Bonk Live TM mobile app will let users and broadcasters view their current balance and spot the location of the nearest ATM with mere swipes on their screen. Using the app's dial feature, Bonk Live TM APP will allow them to also transfer money to other accounts for friends and family. Bonk Live Tm card will also enabled contactless payments using iOS, Android, and Windows 8 phones, besides letting customers activate cards and update PINs. They could also shop through their mobile phones by simply accepting the advertising offer or products offered on the carousal.
The success of these measures is apparent when we consider that about three years ago, 88 percent of the Banks customers' online banking logons were through desktops, but now, more than half their logons (56 percent) happen via mobiles.
In the United Kingdom, reputed banks, such as Barclays, HSBC, Lloyds Banking Group, RBS, and Santander, have developed their own mobile apps for their customers' convenience. UK's Office for National Statistics estimates that 20 percent of adult customers have made at least one mobile payment and 25 percent of bank customers use phones to check their balances. With the Payments Council forecasting that mobile phones would be used for 1.5 billion transactions a year by 2022, the role of mobile technology in the banking industry is on an upward swing.
Consequently, Mr. John Lamb, the president, of Boink Live Streaming said, "We are equipped with the latest technological advancements and are looking at building on our application even further. We are still working on a advanced mobile shopping experience, including product selection and instant checkout payment capabilities, aimed at major retail outlets who can also use the Bonk Live TM advertising carousal for there businesses. The Bonk Live TM application, combine's mobile action codes—with shopping and payment modules that will also create a quick and easy transaction process for consumers, Advertisers, broadcasters and Viewers Globally.
Bonk Live TM bank-provided app will enable customers to view payments requested by retailers and instruct banks as well as the Bonk Live TM ASAP Debit card to make the related payments, it creates a secure channel that doesn't necessitate third party validation or authentication. Using these apps, customers can also make informed choices about their payments and the accounts that they will operate, thereby enabling them to manage their finances more efficiently.
On Feb 13, 2017 Boink Live Tm powered by Boink Live Streaming, announced on PRWEB, ABC News, Business Times, CNN.COM, CNEWS, Tech News, and Discovery Television http://www.prweb.com/releases/2017/02/prweb14064659.htm that Boink Live Streaming was announcing a multi-billion dollar mobile application which would feature a 360-degree HD quality live broadcasting VIP tool, in addition to various other amazing features they would unveil to the world in April 2017.
Presently IDAP https://clutch.co/profile/idap-group located in, the United Kingdom in Edinburgh and Kyiv Ukraine are working together with Boink Live streaming for the application's final build out. Has already begun beta testing using the apple and android versions.
Boink Live TM, which is powered by Boink Live Streaming, is an international Cinderella story and will blast off with an earthquake of anxious streaming Broadcasters. The social media market has almost 4 billion users, with more then 2.3 active on social media daily.
The board of directors, Angel Investors, and Pioneer shareholders of Boink Live Streaming will also share billions of dollars via the new Pay Per Push system. Not to mention the colossal money is made through Virtual Gift's, Commercial live announcements, and the video ad's being played by VIP hosts online. http://www.boinklive.com
Boink Live TM is like having Live me, Bigo live, Facebook, Snapchat, and WhatsApp on steroids while broadcasting, selling, and advertising products worldwide. The steamers are broadcasting and making money while the viewer's watching the live broadcasters are taking offers to buy products. The advertiser is selling products on the carousal during the broadcast, while interested viewers buy the products they like that are being offered. All the while the broadcaster is using their talents online, receiving virtual gifts and virtual gold coins that can be redeemed for cash and withdrawn out through their local ATM. Not to mention, making money showing video's of company's selling products and reading ad's for advertisers while broadcasting online to their fans, whilst also being able to text there friend's or message them live or email or by calling them online while using the application.
Bonk Live TM will launch by April 2017.
This press release contains forward-looking information within the meaning of Section 27A of the Securities Act of the 1933 and Section 21E of the Securities Exchange Act of 1934, and is subject to the safe harbor created by those sections.