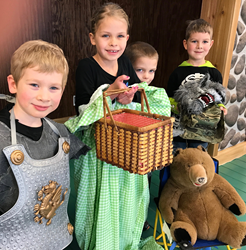 "This new exhibit highlights the amazing things that attract people to the region as visitors and keep people here as residents." - John Kelsch, Children's Discovery Museum
GRAND RAPIDS, Minn. (PRWEB) April 11, 2017
With 1,007 lakes in Itasca County alone, the Grand Rapids Children's Discovery Museum is set to introduce a fully revamped core exhibit showcasing one of Minnesota's most notable resources. "Lake Life" is a new exhibit that will serve as the cornerstone attraction for the Grand Rapids Children's Discovery Museum. The new feature will formally open with a ribbon cutting celebration Saturday, April 22.
The Lake Life exhibit will feature a wide range of interesting, hand crafted and interactive elements that will allow kids to learn more about the environment and develop a love for Minnesota's lake. It includes hand painted murals depicting Lake Life throughout all four seasons, an indoor log cabin and a rope challenge course to promote physical activity. Children will also have opportunities to learn about water quality and aquatic invasive species.
In addition, the new exhibit includes an innovative indoor fishing dock, which will allow kids to catch lifelike replica fish of varying sizes, weights and species. Lake Life also allows kids to explore other outdoors activities, including hunting and exploring. The Children's Discovery Museum is one of only a few Children's museums located in a rural area in the United States.
"We want kids, families and tourists to experience and learn about our abundant natural resources in Itasca County," said John Kelsch, executive director of the Grand Rapids Children's Discovery Museum. "This new exhibit highlights the amazing things that attract people to the region as visitors and keep people here as residents. Lake Life brings the joy and beauty of Minnesota's resources to a young and eager audience."
Lake Life Grand Opening Event Details
Date: Saturday, April 22
Time: 10 AM to 5 PM
Location: Children's Discovery Museum, 2727 Pokegama Ave. S., Grand Rapids, MN
Family-oriented events include:

Formal ribbon cutting with local kids at 10 AM
Prize drawings at 11 AM, 1 PM and 3 PM
Fishing and casting contests
Live music from 10 AM to 2 PM
Refreshments 10 AM to 5 PM
Lake Life is one of many key attractions within the Children's Discovery Museum. In addition, the museum is adjacent to the Judy Garland Museum and Historic House, allowing people to explore many other unique facets of Grand Rapids' history.
Design, construction and implementation of the new exhibit spanned 18 months and involved dozens of volunteers, contractors, a muralist from the Duluth Playhouse, and a design/build team experienced in creating lasting museum exhibits.
About the Children's Discovery Museum
The Children's Discovery Museum was created to enrich the lives of the children of Northern Minnesota through fun, education and hands-on learning experiences. The museum is devoted to sparking the joy of discovery through the exploration of science, arts and humanities. More information is available at http://www.cdmkids.org.
About Visit Grand Rapids
Visit Grand Rapids is the official destination marketing organization for the Grand Rapids, Minnesota, area. Visit Grand Rapids was founded in 1983 as a 501(c)(6) non-profit business association, with the objective to promote the Grand Rapids area as a destination for conferences, conventions, events, group tours and leisure travelers, thereby enhancing the economic growth of the area through travel and tourism. Visit Grand Rapids' mission is to generate a positive economic impact through travel and tourism. For more information, visit http://www.visitgrandrapids.com.
Media Contacts
Joe Thornton
joet(at)aimclear(dot)com
612-355-9692
John Kelsch
director(at)cdmkids(dot)org
218-256-5839